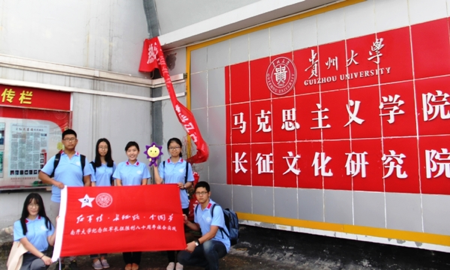 July 18th, after more than 2000 km, a 35-hour tough travel, Nankai University's Team "Enlai Spirit" arrived in Guiyang (Guizhou).
After a brief rest, the members visited the famous Memorial Hall of Lin Qing, where Lin Qing sacrificed herself, and expressed their most sincere respect. On July 19th, the team went to Guizhou University, a western university located in Guiyang, a city with a long history and an important "red culture".
Guizhou has an important "tradition of revolution", and Guizhou University, one of the top universities of Guizhou Province, is an important place for exploration, collection, research, and publicity of the "Long March Culture". Based on the original research about the Long March Cuture, Guizhou University established the Long March Culture Research Institute in 2015 to develop a deeper, wider, and more comprehensive research on the Long March Culture.The Team members visited the Long March Culture Research Institute of Guizhou University.
Thanks to the careful and comprehensive introduction made by the officers, the members learned about construction and development of the Long March Culture Research Institute. After that, they had the chance to discuss with the scholars of the Institute. The members listened to scholar's explications about the history of the academic development and the present situation of the Institute. They also had the opportunity to mention research theme and contents of their social practice, accepting the suggestions of the scholars.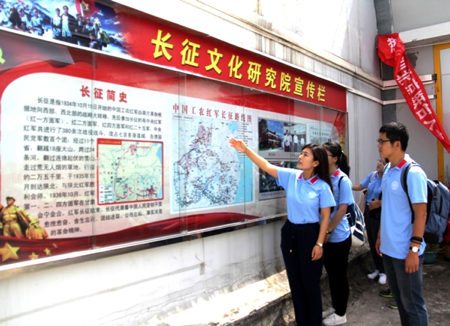 Thanks to the learning trip to Guizhou University, the practice team better understood the culture of the Long March, gaining a more accurate knowledge on the theme and the contents of the social practice. This visit set a firm foundation for team's future practice in Zunyi.
Reported by Liu Jiang, Yang Xiaoying
Translated by Shi Yuchen
Proofread by Letizia Vallni