There is a group of exchange students who come from Aichi University is about to return to their homeland next month. It has been more than two months since their exchange life started in Nankai University. Interested in how they think about Nankai and China during this short time, we interviewed two exchange students of Aichi, Miura Koushi and Hima Sayaka, who are both from Faculty of Modern Chinese Studies. We had a long chat with the students and the teacher Abe to find out what Nankai University is like in their eyes and how much they like China.
Attend Diverse Courses
There was a great variety of courses that exchange students of Aichi University could choose. The teacher introduced their course arrangement. 
Every morning from Monday to Friday, they studied Chinese. In order to let exchange students take a close look at the Chinese culture and know more about China, there were also gym classes and Culture Lectures. In gym class, exchange students can learn Chinese Kongfu and tai chi, which both are traditional Chinese sports. The Culture Lectures were held twice a week. In each class, the professor introduced different forms of Chinese traditional culture such as Chinese Folk Dance, Chinese calligraphy, the Peking Opera and so on.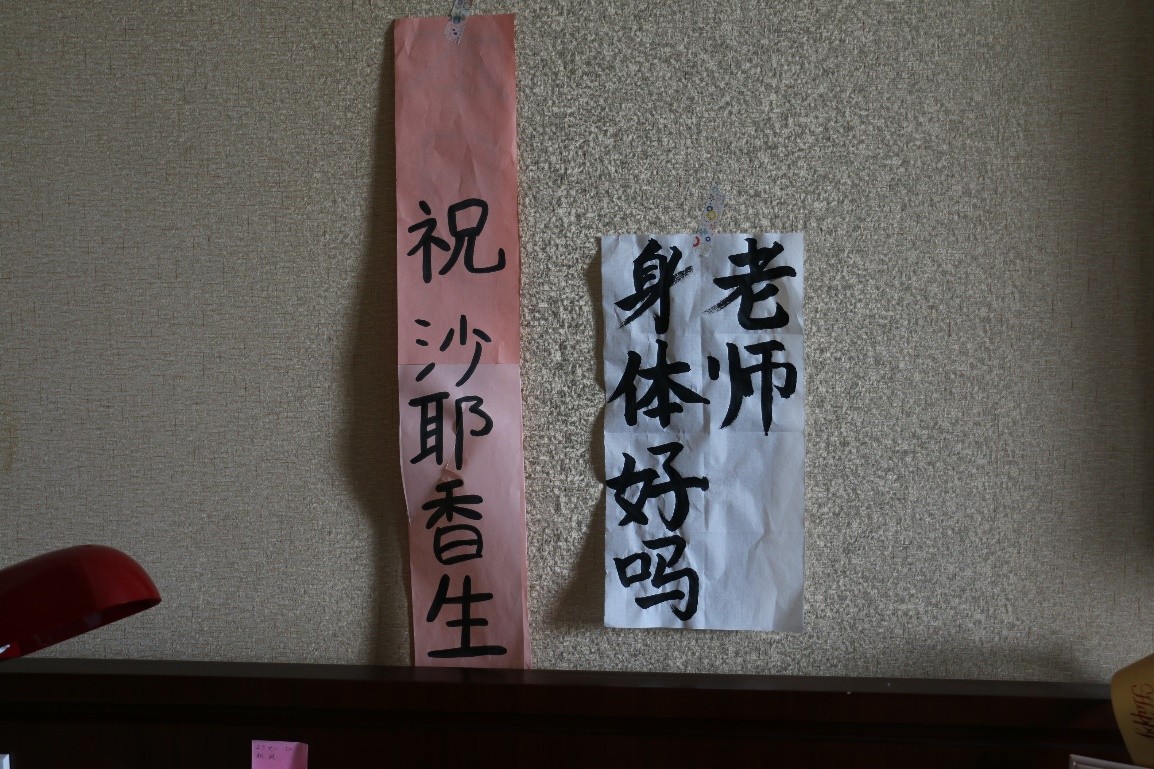 Chinese Calligraphy written by exchange students
Miura Koushi's favorite lecture is Chinese Painting. He just tried to draw a pen-and-ink picture last week, and he said it was so quaint. 
Enjoy Interesting Journey
As a Chinese saying goes, "Read ten thousand books, travel ten thousand miles." Except for taking classes, the school encouraged exchange students to travel, which would help reduce the gap among different cultures. 
During Labor Festival Holiday, more than 70 students went to Inner Mongolia. Hima Sayaka said it was really a fantastic trip because they attended many Mongolian activities such as riding horses and camels, eating roast whole lamb, etc. 
Hima Sayaka and her friends are riding camels in the desert of Inner Mongolia
Miura Koushi added that the most exciting part was that they slept in Mongolian gers. Although it was a pity that, because of the rain, they missed the beautiful shining stars. All of those activities were so special that they had never experienced before.
On weekends, they could go to Beijing, the capital of China, for a short trip. They went to the Tiananmen Square, the Palace Museum, Wangfujing Street and many other scenic spots, and ate the famous Chinese food Beijing Roast Duck in Quanjude.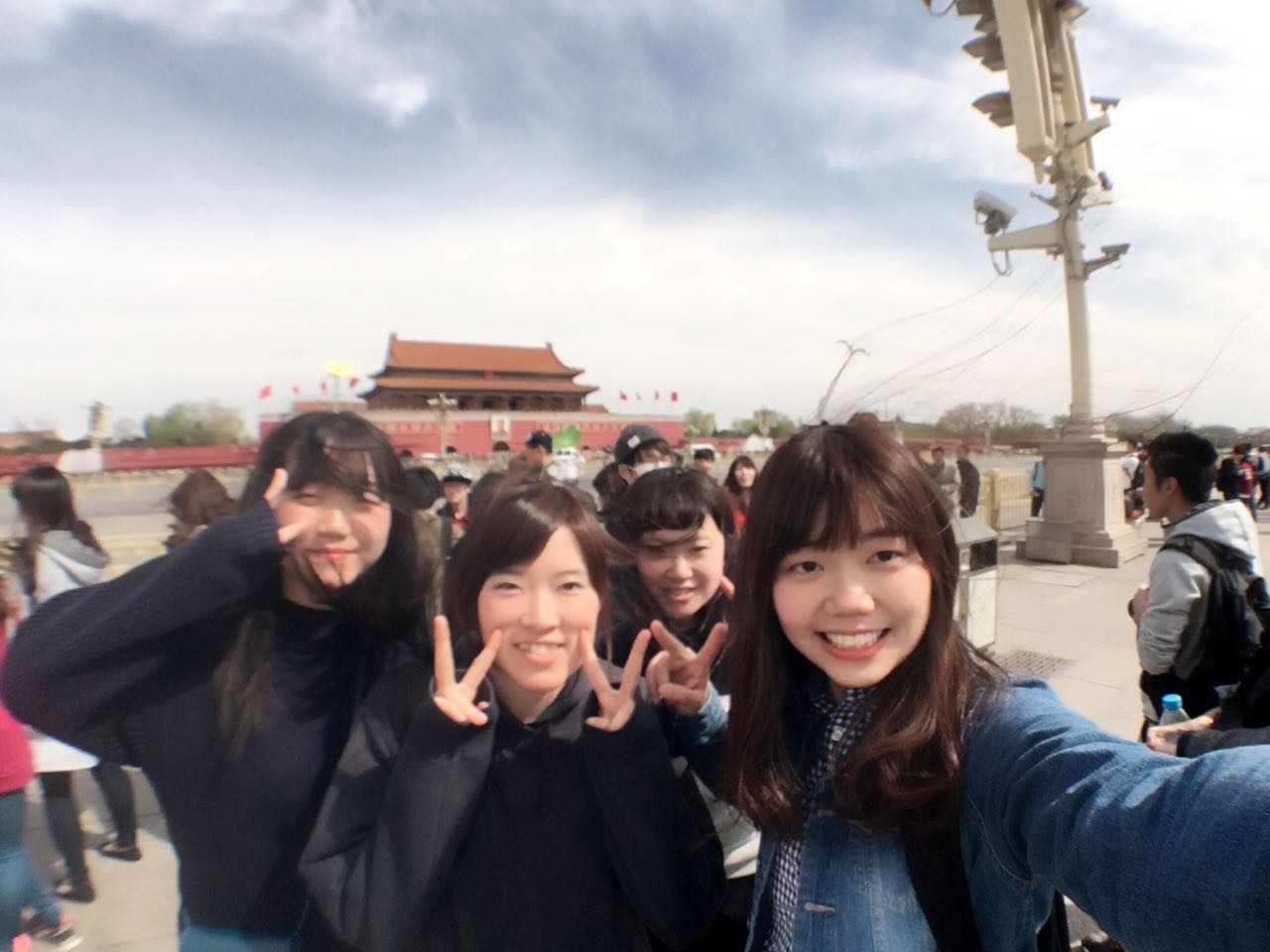 Hima Sayaka and her friends in front of Tiananmen Square
Experience Different Campus Life
The teacher and the students all agree that Nankai University is really different from Aichi University. They said studying in Nankai gave them an opportunity to experience a real university life.
These students are from Nagoya District of Aichi University. Lack of land resource, the campus is very small, which is called as the urban style of campus. There is only one main building in the school which accommodates more than 7,000 students. But in Nankai, the situation is quite different. It is much larger than Aichi University, and it has completed infrastructure and different buildings for different faculties. The campus even includes indoor swimming pool and playgrounds. Hima Sayaka said, "Every time I go to school canteen for dinner, I really admire the view of Dazhong Road, which is my favorite spot of Nankai." Different school cultures form diverse student characters. Moved by the diligence of Nankai students, Hima Sayaka and her teacher even went to see Chinese students' classes for a long time in the beginning of their exchange life.
Moreover, there are so many differences in eating habits between China and Japan. Chinese diets pay attention to the "Color, flavor, taste", which means that most Chinese food are with strong flavors. But Japanese food seems to be light. But living at Nankai for several months, they get used to the Chinese food. They like to eat food in the No.2 Dining Hall, the No. 3 Dining Hall and the southwest market, and what they like to eat most are fried rice, fried dumplings, cold noodles and so on. They specially love dumplings because they are not sold in Japan. Aichi University students' love for dumplings became their motivation of holding a social activity on May 21 with Nankai students to make dumplings by themselves.
What's more, the school has arranged many special activities for them to widen their horizon to other features of Nankai University and Tianjin. For example, students from School of Foreign languages of Nankai did not only participate in the special activities, but also were the language partners of the exchange students. They taught the exchange students Chinese after class. On April 1, the school held Sports Meeting of Foreign Students, and Hima Sayaka attended the tug-war games and won the third price.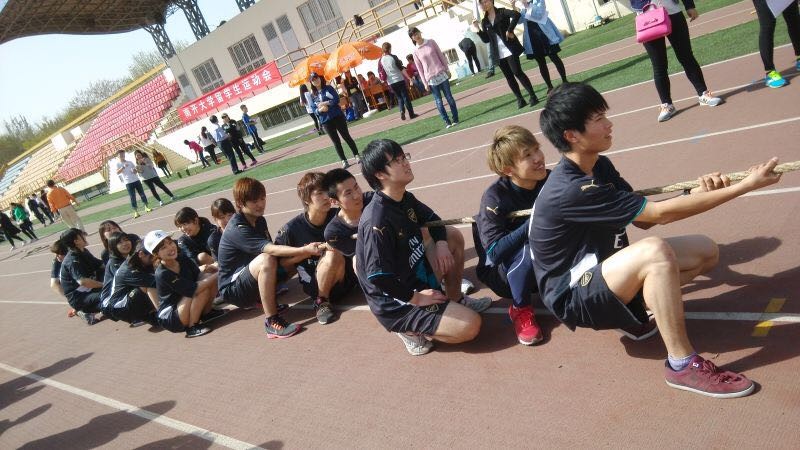 Exchange students of Aichi in the tug-war games
Impression of Nankai and China
These two exchange students both feel that Chinese students in Nankai are really kind and easygoing. Their first Chinese friends are their language partners. These language partners did not only teach them Chinese but also widen their horizon to see the shining points of China. Miura Koushi said, "Students in Nankai are so friendly that every time we go to play the volleyball, there are lots of Chinese students who invite us to play together." Because of the colourful life they were experiencing in China, both of them said that they would certainly visit China again in the future. 
Speaking of the plan for future, Miura Koushi said he wanted to introduce Japanese culture to Chinese tourists after returning to Japan. Hima Sayaka said that in the short run, she would try her best to get an internship programs provided by the school next year, which will be an opportunity for her to be an intern in a company in China. And in the long run, she wants to be a stuff in a Japanese company which has business relationship with China.
Ties of Friendship between Nankai and Aichi
The exchange program between both universities has a long history. The program started in 1980s. Aichi university send students of Faculty of Modern Chinese School each year to Nankai to study Chinese language for four months. In 2016, there are 148 exchange students from Aichi University come to take the exchange program at Nankai University from March 10 to June 30.
Ties of friendship between Nankai and Aichi lasted for nearly 30 years, which makes great contribution to both two universities and students.
Interviewed & Written by Tang Tang
Proofread by Shi Yuchen, Cecilia Yang