December 20th, the Seminar on the Construction of Innovation Center for China-U.S. Youth Exchange was held at Wenzhou University. Nankai's student start-up team "Zhi Dao Huang Long"was entitled as Excellent Team.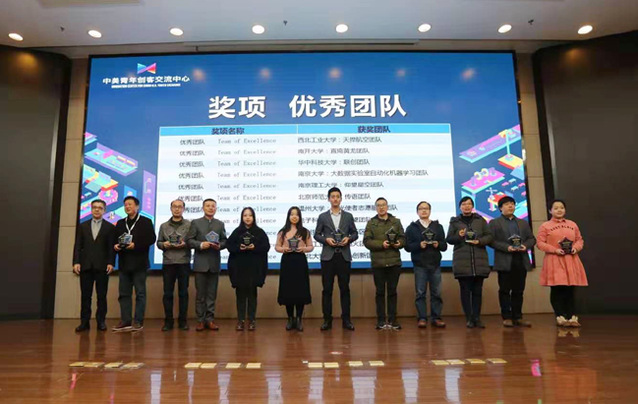 Yongji Xu, Vice Director of Department of International Cooperation and Exchanges, Ministry of Education, PRC, Shuhua Xie, Chancellor of Wenzhou University, and Bin Zhou, Secretary General of Innovation and Start-up Education Steering Committee, Ministry of Education, PRC, attended the conference and gave speeches. More than 20 Innovation Centers for China-U.S. Youth Exchange and companies including Google, DELL, IBM, etc, also attended the conference.
Nankai's winning team "Zhi Dao Huang Long" has been composed by 8 students from the School of Pharmacy and the College of Electronic Information and Optical Engineering. Dependent on the research advantage of Nankai University and National Navel Orange Engineering Research Center, the team formed a new product that can be widely accepted: colloidal gold nanoenzyme test paper. The farmers can use the test paper in the field and can avoid the loss of 21,516.64 yuan/mu on average.
Innovation Center for China-U.S. Youth Exchange aims at implementing the results of the consensus between the heads of state of China and the United States and China-U.S. Joint Statement on Social and People-to-People Dialogue, strengthens the exchange between Chinese and American young students in the field of innovation and promotes the innovation and entrepreneurship education reform in Chinese universities. The Center has developed activities for 8 times with 2 American universities and 5 American companies with 92 participants. The activities also highlighted the deepening of international innovation and entrepreneurship cooperation with the Belt and Road countries, and the establishment of cooperative relations with Uzbekistan's universities and enterprises. With the Center's effort, the quality of innovation and entrepreneurship projects is improved, and both social and economic effects of the projects implemented and transformed are increasingly significant.
(Translated by Yuchen Shi,Edited by Davide Francolino and JianjingYun)