Recently, Nankai University Research Institute of Public Health opened a COVID-19 column on its website. All the articles within this column were written by scientific research teams of the Institute, combining the latest developments in epidemic prevention and control and focus topics in the field of public health. In doing so, they will share more scientific knowledge to improve public awareness and understanding of the pandemic and contribute to its scientific and precise prevention.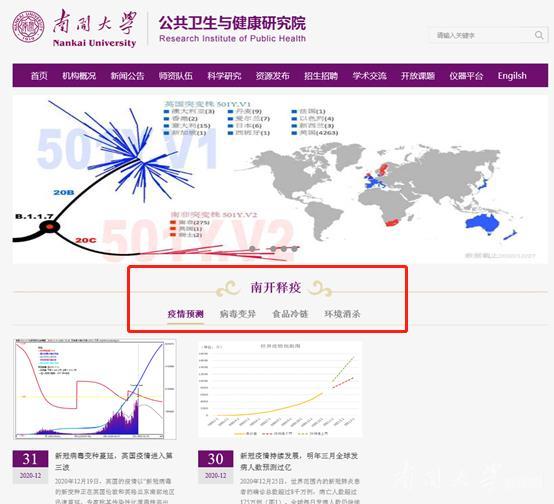 Launched on December 30th, 2020, this fledgling column covers four topics: epidemic forecasting, virus mutation, cold-chain food, and environment disinfection.
It's been noted that until now there have been 6 articles in the column, all of which aim to introduce popular science concerning the coronavirus to the public. As authors of these works, these scientific research teams try their best to respond to public concerns and provide guidance on the covid-19 response.
Professor Huang Senzhong's team has published two articles covering the topic of the epidemic prediction, "The Tunnel Gets Darker: over 100 million Covid-19 cases to be expected until next March" and "The Spread of New Coronavirus Variants: Britain enters the third surge of its epidemic". On the topic of the virus mutation, the article by Professor Sun Yamin's teams, especially by Professor Sun Yamin and Liu Bin, makes a complete and professional comparison with two mutated coronavirus variants: the South African 501Y.V1 variant and the Britain 501Y.V2 variant. As cold chain has become a buzz word in news reports about the spread of COVID-19, Professor Wang Shuo's team also contributed two articles under the cold-chain food column, "Cold-chain Food under the Coronavirus Pandemic" and "Is Cold-chain Food Safe Anymore?" Both focus on interpreting the safety issues of cold-chain food and help the public to eat them both professionally and correctly. The last topic included is environmental disinfection. Doctor Huang Yuyuan and Doctor Yang Jing's article "How long Can the Coronavirus Survive on Various Surfaces" is be a professional introduction to the methods known worldwide to disinfect the virus.
In May 2020, the Nankai University Research Institute of Public Health was established as one of the university's effective and essential measures to follow frontier trends in education, science and technology, support China's major national strategic needs and the Healthy China initiative, and implement the university's "4211" Seeking Excellence Plan. This newly-born institute aims to promote the discipline of public health and preventive medicine of Nankai University, to conduct advanced scientific research of preventive medicine, and to develop talents accordingly. In doing so, this will help the Beijing-Tianjin-Hebei region in its epidemic prevention, R&D, and strategic reserves in the field of public health, advance regional medical education, and improve public health emergency management capability.
Website address: https://riph.nankai.edu.cn/
(Reported by Junhui Wu, translated by Yating Jin, Edited by STEFAN SARAH DANIELLE and JianjingYun)