At 8 p.m. on February 17, awardees for the Touching China 2020 Person of the Year Prize were announced on CCTV 1. Yeh Chia-ying, the renowned Chinese classical poetry scholar, director of the Institute of Chinese Classical Culture at Nankai University, member of the China Central Institute for Culture and History, academician of the Royal Society of Canada, was awarded the Touching China 2020 National Prize as Person of the Year.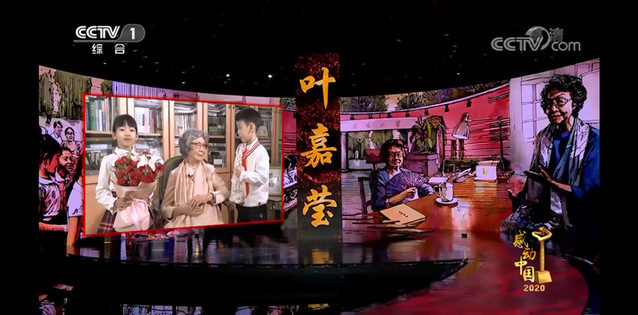 Her prize announcement reads "with students all over the world, you have been committed to the succession of our culture. You uncovered the secret of poetry,and people admire your legendary. Roving far, you have always been concerned about China. You have been keeping Li Qingzhao's verses alive and carrying the torch of classical Chinese poetry high; you have been a successor of Wang Guowei's unique artistry and a true master of both Chinese and Western literature. You are the daughter of poetry and the sage of poetic grace."
Yeh Chia-ying was born in a family of scholars in Beijing, in 1924. Before the age of 10, she had always received education from her parents at home, reciting the classics: her attachment for poetry was hence formed. In the winter of 1948, Yeh followed her husband to Taiwan. Shortly after, since her husband lost his job, Yeh bore the burden of supporting the family by teaching.
After 1960s, Yeh Chia-ying was appointed as visiting professor at the Harvard University and the Michigan State University, and as tenured professor at the University of British Columbia. She spread the Chinese traditional culture abroad.
In the late spring of 1978, Yeh Chia-ying learned from the newspaper that the schools in the mainland China needed teachers. She immediately wrote an application to the State Education Commission, hoping to return to China to teach without pay. In 1979, her application was approved, then she came to teach at Nankai University. Over the past 40 years, she has been invited to dozens of universities around China to give lectures, and has delivered several hundred lectures on classical poetry. In her decades of teaching, she has developed a large number of talents in classical Chinese literature. Many of her students have become famous professors and academic leaders of universities in China, Canada and the US.
In order to expose the children to poems and build their character, Yeh Chia-ying worked late into the night, despite her advanced age. She carefully selected over 200 poems that are suitable for kids, and compiled a book named "Classical Poems for Children". Her 19 works related to poetry, which she strained every nerve to write, have become classics to inherit the traditional Chinese culture. In her view, "after the improvement of people's spiritual character, the latter will have his own happiness and will not indulge in money-seeking or something material, losing the most precious value of life".
After returning to China, Yeh Chia-ying established the Institute of Comparative Literature at Nankai University, whose name was later changed into "Institute of Chinese Classical Culture". She donated half of her pension, which was about 100 thousand dollars, to set up the Tuo-an Scholarship and Yongyan Academic Fund. In 2018, Yeh Chia-ying donated 35.68 million yuan to the Nankai University Education Foundation in order to establish the Jialing Fund, continuing to support the research into fine traditional Chinese culture.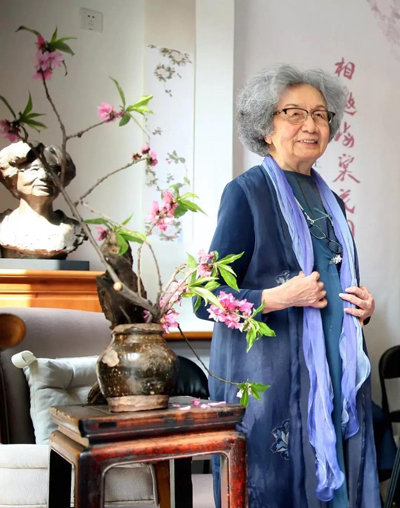 Yeh said that she would like to tell the youth the noble and unsullied world of classical poetry that she had seen, to open the door and take those who do not understand poems into this world. "I pursue my career wholeheartedly, though my life is limited. I lead a positive life while I am prepared for the negative. An individual is small and transient, in terms of space and time, but culture is eternal. I am happy to make contributions to our long-standing Chinese culture".
Yeh Chia-ying has spent her whole life on the only mission of showing the world the beauty of classical Chinese poetry. At the prize-giving ceremony, Yeh Chia-ying expressed her wishes, "I have been teaching for my whole life. I am good at nothing but teaching. What I am planning to do is pass down the recitations of the ancient Chinese literature. We are going to make the recordings soon. I hope I can finally finish this, and pass down the splendid culture of our nation".
(Reported by Jingqiu Hao, Translated by Junlin He, Edited by Davide Francolino and JianjingYun)