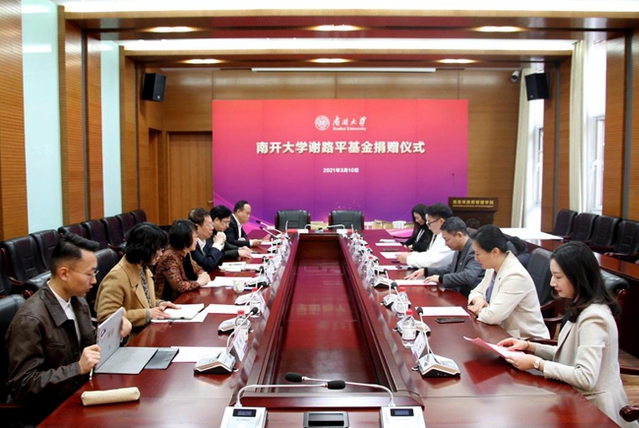 On March 10, the donation ceremony of the Xie Luping Fund of Nankai University was held at the Zhou Enlai School of Government. Many outstanding people attended the event including Xie Luping, the partner of the Beijing Shangding Technology Co., Ltd. and an alumni of the class of 2011 from the Zhou Enlai School of Government (ZGS)of Nankai University, Lu Shanshan, CEO of Shenzhen Qinhong Technology Co., Ltd., and Zhu Guanglei, vice president of the Nankai Alumni Association.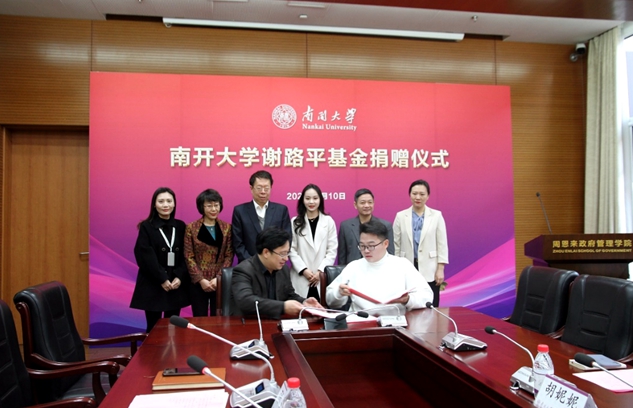 According to the person in charge of the Zhou Enlai School of Government, the total amount of the Xie Luping Fund of Nankai University is one million yuan, which is divided into four items: scholarships, faculty fellowship, student subsidies and the Zhou Enlai research special fund, which is used to reward and support teachers and students of the Zhou Enlai School of Government and research related to Zhou Enlai. The person in charge of the School Development Office and the Education Foundation signed the fund donation agreement with Xie Luping. The head of the Zhou Enlai School of Government received a donation check and presented a donation plaque to Xie Luping.
Gao Yang, an undergraduate majoring in international politics enrolled in 2018, expressed his sincere thanks to Xie Luping as a student representative. He said that he would regard it as an incentive to study hard and forge ahead in accordance with the school motto of "dedication to public interests, acquisition of all-round capability, aspiration for progress with each passing day" and strive to become a useful Nankai person in society.
Xie Luping recalled his study and life experience in Nankai University and shared his entrepreneurial experience in recent years. "I am proud of Nankai University today and Nankai will be proud of me tomorrow" is his motto. He encouraged the younger students to work hard despite difficulties, to uphold the school motto, and to make more contributions to Nankai University and society.
Zhu Guanglei expressed heartfelt thanks to Xie Luping for his generous donation on behalf of the school. He said that Nankai alumni have a natural and profound friendship with Nankai University. The donation of Xie Luping is a real manifestation of cherishing the spirit of Nankai and his adherence to the school motto. Zhu Guanglei encouraged the teachers and students to continue to push forward the work of the college, strive for better performance and achieve greater development, and live up to the ardent expectations of alumni.
(Reported by Lixiang Zhang, Translated by Xinyu Wen, Edited by STEFAN SARAH DANIELLE and JianjingYun)