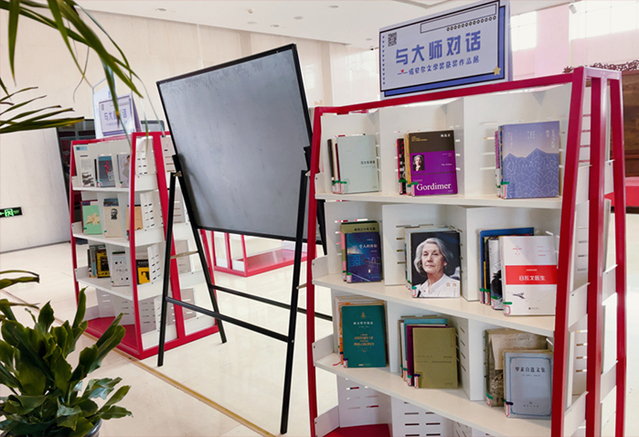 Recently, to celebrate the 120th anniversary of the Nobel Prize in Literature, Nankai University Library held the exhibition Dialogue with Masters – Exhibition of Nobel Prize-winning Works in the middle hall on the second floor of the Central Building of Jinnan Campus, exhibiting the main representative works of previous Nobel Prize winners. More than 180 books have been showed, involving literature, biography, economics, history, philosophy etc.
The Nobel Prize in Literature is widely acknowledged as the highest honor in the field of literature. It is one of the awards established in accordance with Nobel's will in 1895. It aims to reward those who have created the best works with ideal inclination in the field of literature. The Nobel Prize for Literature was awarded for the first time in 1901. Unless special circumstances apply, the prize is awarded once a year by the Swedish Academy of Letters. By 2020, the Prize had been awarded for 117 times. It was won by one person for 113 times and shared by two people for 4 times.
It is learned that the theme book fair is one of the activities of the 11th Reading Festival of Nankai University. It aims to lead readers to more in-depth reading, to develop interest in reading, to enhance personal cultivation, and to create a culture of reading more and reading well. It is through reading the immortal works of literary masters and looking for spiritual power in the books that one can understand the everlasting essence of the classics. This theme book fair is in the middle hall on the second floor of the Central Building of Jinnan Campus, and will last until the end of May. Readers are cordially invited to the exhibition.
(Reported by Shijuan Fu, translated by Junlin He, edited by Davide Francolino and JianjingYun)