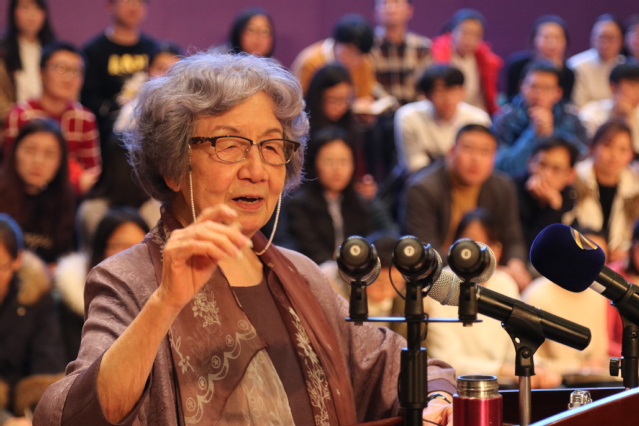 Professor Yeh Chia-ying was born in 1924. After graduating from Department of Chinese Language and Literature, Fu Jen Catholic University in 1945, she has been working at National Taiwan University for 15 years since 1954, during which she worked as a full-time Professor at National Taiwan University and Adjunct Professor of Tamkang University, Fu Jen Catholic University. In 1969, she moved to Vancouver, Canada, serving as Tenured Professor of the University of British Columbia. In 1991, she was awarded the title of "Member of the Royal Society of Canada", which made her the only member in terms of Chinese classical literature in the Society. Besides, she also received the degree of Honorary Doctor at Lingnan University, Hong Kong and University of Alberta, Canada. At present, she assumes the Director of Research Institute of Chinese Classical Culture at Nankai University and Librarian of China Central Institute for Culture and History.
Since 1966, Professor Yeh Chia-ying was invited and employed as Guest Professor and Visiting Professor by many universities, including Harvard University, Yale University, Columbia University, University of Michigan and University of Minnesota System. Starting at 1979, she returned to China every summer to teach at numerous universities. In the past, she was invited to give lectures as Visiting Professor and Honorary Professor at many universities and colleges, including Peking University, Beijing Normal University, NanKai University, Tianjin Normal University, Nanjing University, Nanjing Normal University, Fudan University, East China Normal University, Sichuan University, Yunnan University, Heilongjiang University, Harbin Normal University, Liaoning University, Yuzhou University, Lanzhou University, Xinjiang University, Xinjiang Normal University, Central China Normal University, Wuhan University and Hubei University. In addition, she was also employed as the Honorary President of Chinese Poetry Society (CPS), Honorary Researcher of Center for Literature Studies, Chinese Academy of Social Sciences (CASS), Consultant of the Institute of Chinese Poetry, Chant and Recital Society and Beijing Cultural Development Research Institute in Beijing Normal University, Honorary Director of International Cultural Exchange Center.
Professor Yeh Chia-ying takes Chinese classical poetry as her lifetime career, thus she has nurtured plenty of talents in terms of the Chinese classical poetry. Most of her students have been the renowned Professor and Academic Leaders at many universities in Canada, America, Hong Kong Special Administrative Region and Taiwan Province of China. In order to promote traditional Chinese culture and support the development of the students who are fond of classical literature, she had established Research Institute of Comparative Literature in China (renamed as "Institute of Chinese Classical Culture"). Also, she donated half of her pension to establish Yeshi Tuoan Scholarship and Yongyan Academic Fund for the dissemination and research of Chinese classical culture so that the country can attract and training more talent to study classical Chinese literature. Her enthusiasm touched many of her friends in Canada and Macao Special Administrative Region. As a result, they supported her career by sending a generous donation to Nankai University.
Her major publication in English was Studies in Chinese Poetry published by Harvard University Asia Center. In addition, she has published many scholarly works, almost all in Chinese, including nearly 20 Chinese masterpieces such as Wang Guowei and the Associated Literary Criticism, Book of Lingxi Poetry, Modern Insights into the Study of Chinese Poetry, Diverse Reviews on the Chinese Poetry throughout History, Selected Analysis of Qing Poetry. In 1997, Hebei Education Press published the Anthology of Yeh Chia-ying (10 books). In 2000, Lauréat Publications published Collection of Yeh Chia-ying's Works (24 books). In 2007, Zhonghua Book Company had published 7 series of Ye Jialing's Lectures on Poems. Moreover, Peking University Press had published 7 series of Ye Jialing's Lectures on Poetry. Her masterpieces has made great contributions to Community of Classical Chinese Literature and has built a loyal fan base. Book of Lingxi Poetry, one of her accomplished works won the first Outstanding Achievement Award of Social Science Research in Humanities for National Higher Institutions by Ministry of Education of PRC in 1995 (1st prize).
In December, 2008, she also won the first Lifetime Achievement Award for Chinese Poetry in Beijing. The speech at the presentation said that Professor Yeh Chia-ying has a worldwide reputation for her study on Chinese classical literature, and she also is a distinguished representative for the promotion of Chinese poetry across the world. She is an excellent scholar who worked on comparative research by introducing Western Literary Theory into the Chinese classical literature. With her novel and creative poetry, she has been a strong supporter of the academic community.
In 2013, she was the winner of China's Wisdom – the Outstanding Contributor to the Promotion of the Chinese Culture organized by Ministry of Culture of PRC, the State Council Information Office of PRC, Overseas Chinese Affairs Office of the State Council, China Central Television (CCTV), the Chinese People's Association for Friendship with Foreign Countries and Confucius Institute Headquarters (Hanban) together.
The new masterpiece of Professor Yeh Chia-ying - Seven Lectures on Poetic Remarks in the Human World Jen-chien Ta'u-hua was recognized as the China's Fine Books of the Year 2014 organized by Publicity Department of the CPC, the Academy of China Book Review and CCTV.
In September, 2014, she was nominated as the Great Contributor to the Promotion of Traditional Chinese Studies by IFENG.COM, Phoenix TV and Yuelu Academy. In January, 2015, Chinese Culture Promotion Society (CCPS) and Phoenix TV ranked her as the leading figure in the Chinese Culture promotion of the year 2014. In 2016, she was the recipient of the You Bring Charm to the World Award organized by Phoenix TV and other mainstream media.
https://mp.weixin.qq.com/s/4yqPWQ5J5UERJgzsT0M-bg (Source: Official Accounts of Jialing Study)