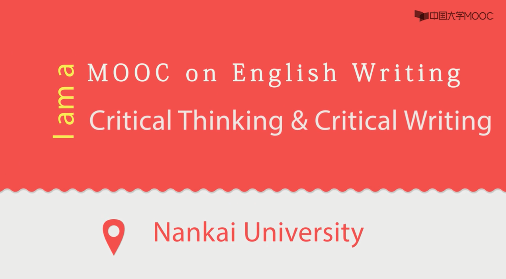 Lecturer: Tang Lei
Do you want to be a person with critical thinking skills? Do you want to know how to review and respond to different opinions? Do you want to express your thoughts effectively in English? Do you want to improve the content of your writing in English? Then, don't miss the Critical Thinking and Critical Writing course.
Course Overview
The Critical Thinking and Critical Writing course integrates the cultivation of critical thinking skills and the teaching of English essay writing. Thinking training is used as the teaching method of writing, writing materials are used as thinking training materials, and thinking is used to promote writing, and vice versa. It aims at improving students' English writing skills while developing their critical thinking skills. This course is positioned as a college English course for students who aim to improve their critical thinking skills and English writing skills. This course is both instrumental and humanistic. In terms of instrumentality, it aims to further improve students' English application ability, especially writing ability, so that students can express their opinions and communicate with accurate written language in international communication. As far as humanity is concerned, this course cultivates the core attainments, such as analyzing and solving problems and cross-cultural communication, in the 21st century by developing students' critical thinking ability.
Course objectives
Upon completion of this course, students will:
know the basic knowledge and elements of critical writing;

use written English to express clear and definite opinions on general topics;

understand five common methods of argumentation;

use the five common methods to conduct argumentation and support opinions;

master the quality evaluation standard of argumentation;

weigh others' arguments and strongly support or refute them in written English;

comprehensively use writing and critical knowledge to complete writing;

think about actual issues in a critical way, form your own judgments, and make arguments;

review your opinions and writing with a critical spirit and make corrections;

use standard English for accurate written expression.
References
Chaffee, John. Thinking Critically. Wadsworth Cengage Learning, 2012.
Dietsch, Betty M. Reasoning and writing well. McGraw-Hill, 2003.
Donald, McQuade and Robert, Atwan. Thinking in writing. McGraw-Hill, 1997.
Facione, Peter and Carol Ann G. Thinking critically. Pearson, 2013.
Hammond, Eugene R. Critical thinking, thoughtful writing. McGraw-Hill, 2008.
John, Langan. College Writing Skills with Readings. Foreign Language Teaching and Research Press, 2013.
Kanar, Caral C. The college writer. Peking University Press, 2011.
Richard, Paul and Linda Elder. Critical thinking: Tools for taking charge of your learning and your life. Prentice Hall, 2011.Tools for taking charge of your learning and your life. Prentice Hall, 2011.
Wang Yipu and Jian Yue. New Experiencing English Critical Thinking and Reading. Higher Education Press, 2017.
Course Link