Student Profile
Name: Feng Xiaotong
College: School of Marxism
Program at University of Lodz, Poland
My Story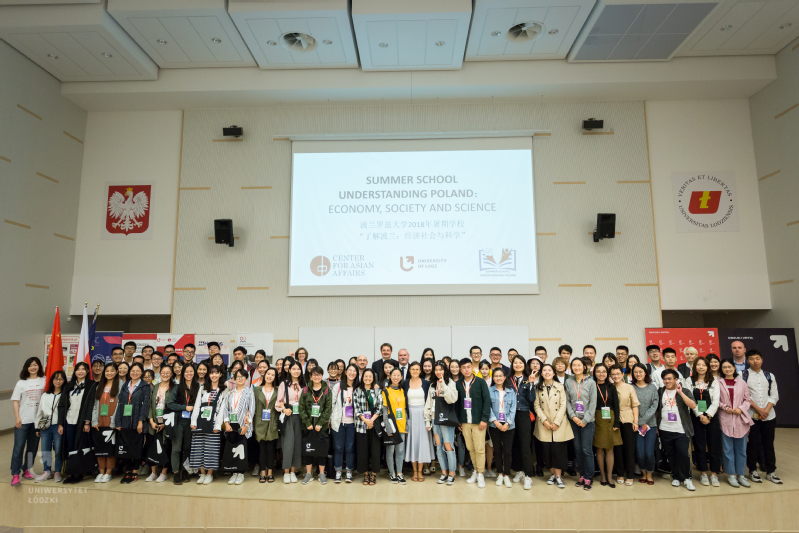 I show my gratitude to Nankai University, University of Lodz, and teachers from the Office of International Affairs and from the School of Marxism, Nankai University for providing us with the chance to participate in exchange study in the University of Lodz in Poland. During the days in Poland, we deeply experienced the charm of different regional cultures, gained knowledge and broadened our horizons, which is of great significance to our work and study in the future.
1. About Lodz
Located in the middle of Poland and also the Europe, Lodz is the third largest city in Poland. Lodz is also a transportation hub in Poland. And this geographical location determines the diversification of economy in Lodz. Lodz has close cooperation with Chengdu, Sichuan Province, China. For example, the Chengdu-Europe Railway passes through Chengdu and Lodz. Lodz is adjacent to Warsaw, the capital of Poland, with about a two-hour drive between two cities. Lodz is famous for its industry and has a good reputation of Manchester in Poland. In the exchange study, we were lucky to visit the famous factories, museums and Chopin's former residence in Lodz and other special scenic spots and deeply felt the cultural deposits of Lodz.
2. University of Lodz
Founded in 1945 and located in central Poland, University of Lodz is one of the largest key universities in Poland and has 12 colleges. In the exchange study, the University of Lodz arranged for us busy and enjoyable curriculum which mainly included compulsory courses and elective courses. In the compulsory courses, the teacher mainly talked about the history of Poland, famous Polish figures, reconstruction and utilization of industrial buildings, Polish literature and art, economic and social development in Poland, Sino-Poland cooperation and the development of the Belt and Road Initiative. The elective courses mainly included design thinking workshops, computer science, economic management, ecological hydrology and cross-cultural communication for students to choose freely. These courses not only broaden our horizons, but also enable us to learn about different ways of thinking. This is undoubtedly a very good learning opportunity for our students.
3. Visiting around
The Polish teacher in charge of this exchange study program was responsible for us, carefully arranged curriculum and designed unique teaching practices for us in addition to theoretical study. In the exchange study, the organizer organized a four-day excursion for us, which gave us an opportunity to visit the scenic spots around Lodz, film factories, forest parks, industrial museums and other places with strong Lodz cultural characteristics. In the excursion, we also deeply perceived the real meaning of an ancient Chinese saying, Reading ten thousand books and traveling ten thousand miles, which enabled us to enjoy the thought feast brought by foreign culture in theories and practices. What impressed us most was that in the graduation ceremony, the school invited local dancers to show us the dance with Polish characteristics, which left us a good impression.
4. Climate, humanities and travel tips in Lodz
Lodz is a rainy city, so students in the exchange study need to prepare rain gears. After the rain, Lodz is a bit like Tianjin in the late autumn, with a faint chill. Additionally, Lodz has a large day-night temperature difference. In July, it is relatively hot in the sunny daytime, but the temperature drops sharply in the evening. Therefore, students who intend to go to Lodz should take some long-sleeved shirts, trousers and jackets. It should also be noted that the adapter, invitation letter, passport and required documents should also be carried. Buying a telephone card in advance on Taobao is the best choice, convenient and effort-saving. The Polish currency is Zloty. You need carry some Euros and then exchange them for Zloty in Poland.
Additionally, Polish is used in some shopping malls and supermarkets in Lodz. And food packaging and tram tickets are also written in Polish. But you can try to communicate with English. Generally, shop assistants and restaurant staff in large shopping malls understand English. You can also download Google Translate to translate Chinese into Polish for communication.
And finally, I would like to show my sincere gratitude to the teachers from Office of International Affairs and from the School of Marxism, Nankai University and University of Lodz. The summer program provided us with the chance to participate in exchange study in Poland, which is unforgettable and valuable and brings us a lot of benefits.
Looking back on the days in the University of Lodz, the Polish people we met were friendly and kind, patiently showed us the way with a smile and helped us, leaving us with a good impression. Under the Belt and Road Initiative, I hope that China and Poland could deepen exchanges and promote joint development, that the people of the two countries could increase exchanges and communication and make progress together and that the summer exchange study program of Nankai University and University of Lodz could be better and better!