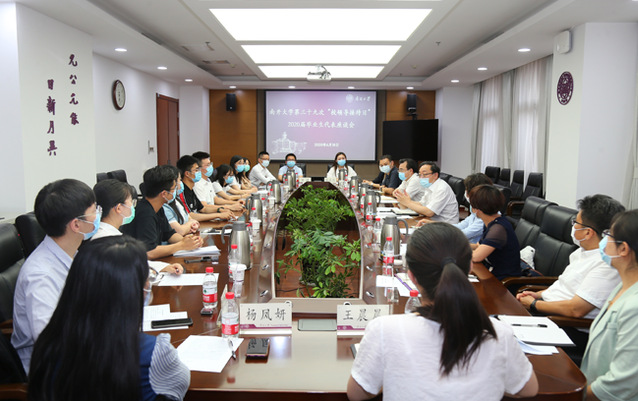 In this special graduation season, 14 graduate representatives of Nankai University and school leaders sat together to talk about their feelings for graduation. Some of them talked about their growth experiences, some shared their future plans, some offered suggestions for the development of the university, and some made "keen complaints". On June 18, Nankai University held the 39th Leaders' Reception Day Activity & Symposium of Graduating Class of 2020. President Cao Xuetao, Deputy Secretary of the Party Committee Yang Kexin and Assistant President Qu Kai attended the symposium, listening to the innermost thoughts and feelings of the graduates. Despite wearing masks, the enthusiasm of graduates to honor and love Nankai University has not diminished at all.
On growth: Nankai Spirit is carved in the heart
Some of the graduates are going to western China to support education, some will take root at the grassroots level, some have passed the government civil service examination, some have joined private enterprises, some chose to further their study abroad, some have also made up their minds to prepare for taking part in Postgraduate Entrance Examination for a second time... Under the impact of the once-in-a-century COVID-19 epidemic, it is very difficult for them to move forward at this crossroads in their lives. However, with different life choices and future paths, everyone has expressed the profound influence of Nankai spirit on them: Dedication to public interests, acquisition of all-round capability, and aspiration for progress with each day.
Dong Xudong, a graduate of Business School, also one of Nankai University's eight students who were enlisted in the army, wrote to General Secretary Xi Jinping, said that it was Nankai's study experience that enabled him to join the army and to be trained. Later he received the cordial care of the General Secretary, which further strengthened his ambition to stand on his post and serve the country. He was awarded the third-class merit in the army and the National Excellent Communist Youth League Member. He passed the Tianjin Selected Graduates Examination, and will soon embark on a new journey of serving the people.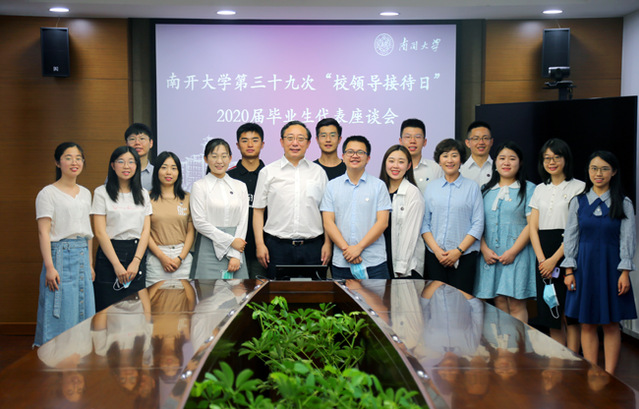 On suggestions: Expectations on the prosperity of Nankai
At the symposium, graduate representatives also actively offered suggestions on promoting employment, enhancing the health of graduate students, supporting cross-college course selections, strengthening students' psychological counseling, creating a high-level academic atmosphere, introducing first-class talents and increasing support for students contributing to the western areas, in a hopeful anticipation that their alma mater's soar in its new century.
Facing the most difficult employment season in history, the employment issue has attracted much attention. Everyone has made suggestions, hoping that the school can give guidance to students in employment and career planning earlier. They hope the university can coordinate training with employment, so that curriculum design, professional knowledge setting and specialty practice are more closely combined; Moreover, they hope the university can fully mobilize alumni resources and further coordinate and integrate the platforms, channels and resources of colleges and schools on employment in a sharing system.
On wishes:
Cao Xuetao listened carefully to the words of the graduate representatives, and was glad to see their growth and fruitful results in Nankai, and responded to the specific difficulties and suggestions put forward by them.
Cao said: On behalf of Nankai University, I would like to express my heartfelt congratulations and fervent expectations to you and all the graduate students of this year. I hope that everyone will continue to carry forward Nankai spirit in their future employment and entrepreneurship and in their respective posts, make contributions in all parts of the motherland, making the alma mater proud of you.
For the graduates who are about to leave the campus and set off their journey in all directions, Cao put forward four expectations: First of all, I hope you can aim high, set great goals and do great things; Secondly, I hope you can be deeply attached to the country. Nankai students should keep General Secretary Xi Jinping's earnest instructions in mind, and merge theirselves into the society, closely link personal development with the destiny of the peoples and the nation, and consciously inherit centenarian Nankai's national heart and soul of patriotism. Third, I hope you can be down-to-earth instead of rushing for success. I hope you won't be moved by impetuous atmosphere but base yourselves on your own posts and work steadily. Fourth, I hope you have the courage to fight hard, firmly believe that "no pains, no gains", and bravely meet all unknown challenges with a strong heart.
(Reported by Junhui Wu , Translated by Guangyu Zheng , Edited by Davide Francolino and JianjingYun)