Xuetao Cao
(September 20, 2020)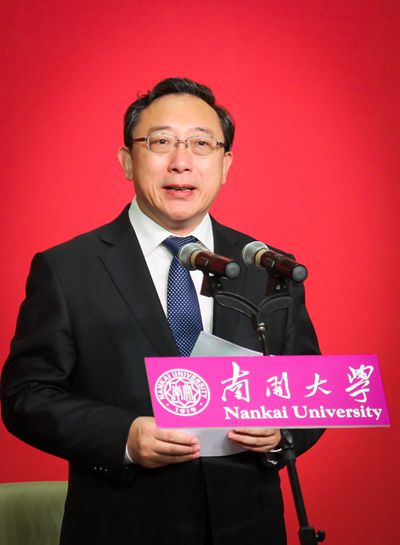 Dear 2020 freshmen, guests, parents and teachers,
Today, we are here to solemnly hold the first opening ceremony of Nankai University in the new century since its founding. First of all, on behalf of all teachers, students and staff, I would like to express my sincere welcome and warm congratulations to every freshman of the class of 2020!
2020 is destined to be an extraordinary year. Confronted with the Covid-19 epidemic, the CPC with Comrade Xi Jinping as the core united and led the people of all nationalities in our country to overcome the storm together and create a heroic miracle in humanity's history of fighting against the epidemic, annotating humanity's love of mutual support and composing a song of life most powerfully and impressively. Under the double test of epidemic and entrance examination, you have shown a high spirit and character worthy of praise. Weijia Wang of the experimental class of IT Science and Technology overcame unimaginable pain, persevered through adversity, and finally realized his dream of being admitted to Nankai with outstanding achievements. Chufan Li of the Boling class of Chemistry has been determined to engage in chemical research since childhood and in the future, he will join more than 100 other students selected in the "plan for strengthening basic disciplines" in devoting themselves to basic research and bravely climbing the scientific peak. Among you, there are also 44 students from Wuhan, the "city of heroes". Although they are in the centre of the epidemic-infected area, they have never stopped pursuing their dreams. Here I propose that we give them the warmest applause and pay high respect for their dedication and contributions! At the same time, I also want to pay high respect to all the Nankai freshmen who are not afraid of difficulties and are brave in going forward, and the parents and teachers who have been teaching and cultivating you in your growth.
I would like to take this opportunity to also make a sincere promise on behalf of the University: we will earnestly shoulder the sacred mission of all-round education, do our best to provide you with more space for development and a better environment for your growth, so that every student at Nankai can feel that "it is joyous to study at Nankai"!
Students, as you prepare for the entrance examination, earth-shaking changes are taking place in the world; the world today is accelerating to go through changes of a kind unseen in a century and international relations and global order are undergoing profound adjustments. China has entered the historical intersection period of realizing the "two centenary goals" and the tasks of economic transformation and upgrading as well as the implementation of overall reform, development and stability are arduous. Nankai has also opened a new chapter in its new century. You are full of vigour and vitality, representing the future of our country and Nankai. I hope you will embrace this great new era with enthusiasm. In the 101st year of Nankai University, you will start a new journey of working hard and have a fresh start together with 100-year-old Nankai!
Integrity promotes innovation. For 100 years, Nankai people have adhered to the spirit of the University's motto "dedication to public interests, acquisition of all-round capability, and aspiration for progress with each passing day", writing a history of patriotism with education, cultivation of talent and constant contribution. Zhou Enlai, the founding premier of China, devoted himself to the cause of the Party and the people. Yonghuai Guo, the founder of the "two bombs and one satellite", gave his life to the development of China's nuclear industry. Shixian Yang, former president of Nankai University, bravely shouldered the heavy burden of filling the blanks of pesticide chemistry research in New China, and the mathematician Shiingshen Chern worked hard to build China into a powerful country in the field of mathematics. In the historical journey of the Chinese nation from standing up to building a fortune and then to being strong, generations of Nankai people have struggled for the destiny of the country, nation, and the University with their individual efforts. As General Secretary Xi Jinping visited Nankai, he said, "Nankai University has a glorious patriotic tradition, which is the soul of Nankai." I hope you can really understand Nankai and feel Nankai with your heart. I hope you will take the predecessors and outstanding alumni of Nankai as an example, being selfless, fearless of difficulty, wise, brave, sincere and pure, and always maintain the characteristics of Nankai people in your life, study and career.
Changes stimulate exploration. Today, people's production and lifestyle have been changed in gradual steps, modern science and technology have been updated rapidly, and new models and new business forms have emerged endlessly. In this complex environment, how to grasp new opportunities, resolve risks and cope with challenges has become a subject that you must always examine and think about. You are the most energetic and creative group of youth, so your accurate recognition, scientific confrontation and active demand for change will become your energy used to drive you to achieve success in careers and in sustainable development. I hope you will learn and study extensively, be good at jumping out of your own disciplines and professional fields, constantly update your knowledge and broaden your horizons. You should not only read classics, but also learn by accumulating social experience. I also hope you will make unremitting efforts to study and explore. While learning the basics well, you should open up new fields, discover new phenomena, put forward new theories, design new methods, and actively host or participate in more breakthrough exploration. I expect that you will boldly make explorations with the pursuit of excellence as the goal, learn to ask questions and scientifically verify the results. In academic research, you are expected to bravely explore the fields that nobody or few people have ever studied, seek the truth in the unknown, make breakthroughs in development, and strive to become the pioneers of leading scientific and technological innovation, promoting social development and boosting human progress.
Perseverance leads you to be the pioneer. The highest ideal of life is to seek truth, yet the process of seeking truth is bound to be accompanied by persistence and dedication, even poverty and loneliness. Perseverance is the life principle of many people around you: Prof. Chia-ying Yeh dedicates herself in passing on Chinese classical poetry and culture, watering the root of traditional culture with all her life's efforts. Academician Prof. Qilin Zhou has led the team to devote themselves to scientific research for more than two decades, and their research result has won the First Prize of the State Natural Science Award, leading to scientific breakthroughs and reforms in the world. Prof. Pei Gu has taught the beauty of mathematics for decades and opened the door to science for countless students. Among the students elder than you, there are those who have gone to the western part of the motherland to make contributions, those who take root in the rural grass-roots to devote their youth, and those who help in urgent need of industries and key fields in the country. These Nankai people are examples worthy of your lifelong learning. I hope you will strengthen your faith, strive for success, and make efforts to become the pillar to shoulder great responsibilities.
Students, in the speech delivered by President Xi Jinping at the meeting commending role models in the country's fight against the COVID-19 epidemic, he deeply interpreted the great virus-fighting spirit which highly values life, nation, people and science. The great virus-fighting spirit vividly demonstrates the Chinese spirit and Nankai spirit is also an epitome of the nation's and the era's spirit. In such a great new era, we have a better understanding of faith and perseverance, and we call for passion and hard work. We need to constantly innovate, explore and be the pioneer in the new journey of working together with the motherland and the era.
85 years ago, it was at the founding ceremony of Nankai University that President Boling Zhang asked the famous "three questions about patriotism" to all the teachers and students of Nankai University. At this moment, let's review the enlightening questions of history, era and future once again, so as to clean up our hearts and inspire our spirits!
Please all stand up!
"Are you Chinese?"
"Yes!"
"Do you love China?"
"Yes!"
"Do you wish for China's development?"
"Yes! We do wish for China to be prosperous and strong!"
Please sit down.
Students, today is a new starting point for you to pursue your ideals and realize the value of life. It is also the new beginning of Nankai's new century and new journey. Please keep your firm answers today in mind and continue to write a new chapter of "three questions about patriotism" with your actions, create a new glory in Nankai's new century, and be a new Nankai people who live up to the great era and the youth!
Thank you!
( Photographed by Qiqi Zong, Translated by Yuchen Shi, Edited by Davide Francolino and JianjingYun)