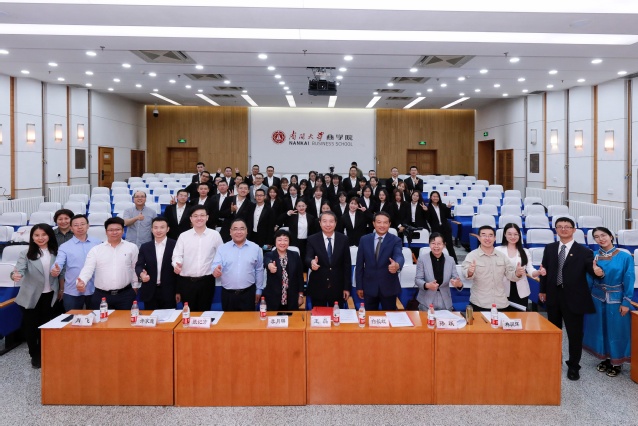 September 18, 2020, the Inaugural Opening Ceremony of 2020 Sino-France Undergraduate double-degree joint Program was held at Nankai University's Business School. Nankai's leadership, who participated at the ceremony, includes Nankai University's Vice President Lei Wang, Director of Office of International Academic Exchanges Yuelin Li. Leadership of the NEOMA Business School also attended the ceremony via online meeting, including NEOMA's Dean Prof Delphine Manceau, Associate Dean Prof Céline Davesne, Chief Digital Officer Prof Alain Goudey and International Admissions Manager Min WU. Other invited guests in China and France include Nicolas Mayer-Rossignol, President of the Regional council of Upper Normandy and mayor of Rouen, Jifang Zhang, Director of Hebei Provincial Department of Commerce (Division of Foreign Investment Administration) and Fei Xiao, in charge of Marketing in JD Digits. Leadership and teachers of Nankai University's Business School also joined the meeting, including the School's Dean Prof Changhong Bai, Chancellor Yue Sun, Vice Dean Prof Runhui Lin, Vice Dean Prof Tiemin Cheng, Vice Dean and Vice Chancellor Na Li, Director of the School's Office of International Exchanges and Authentication Rong Li, Director of the Sino-France Nankai University-NEOMA Business School Undergraduate Joint Program Prof Kai Li and Associate Professor of the Department of Marketing Huan Liu. 40 freshmen, which are the first batch of students enrolled in the Program, and their parents also attended the ceremony. The meeting was hosted by Prof Kai Li.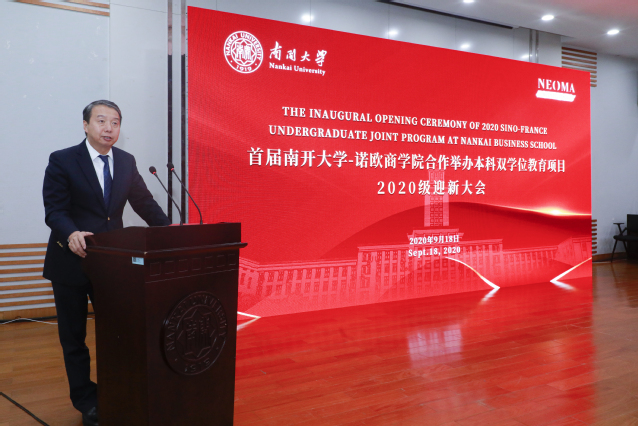 The meeting started with Nankai University's Vice President Lei Wang's speech. He extended sincere greetings and warm welcome to all the guests and the 40 undergraduate freshmen, saying that Nankai University attaches great importance to this Sino-foreign joint educational program. He also mentioned that the Sino-France Bachelor double-degree program in E-Business and Innovation Management is the first double-degree and Sino-foreign educational program of Nankai University. It is an innovation of undergraduate teaching reform in Nankai University, and he wished the project to become a success.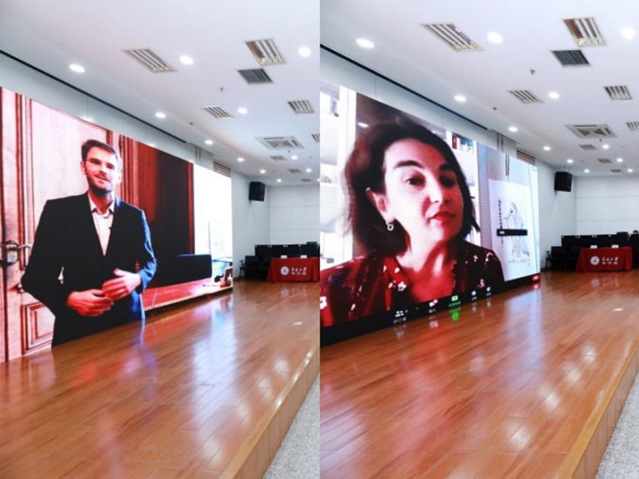 NEOMA's Dean Prof Delphine Manceau and Mayor Nicolas Mayer-Rossignol of Ruoen also gave speeches by videos. They congratulated on the opening ceremony of the Sino-France international joint program, and firmly believed that the cooperation will provide a broader platform for students and cultivate innovative talents with leadership and social responsibility.

Dean Prof Changhong Bai of Nankai University's Business School introduced the development and the characteristics of the School. He also encouraged students to gain more knowledge, learn the truth of life, have teamwork spirit and improve abilities and skills. He also expected more intimate cooperation to be carried out between the two sides in the future by taking the successful development of the Program as an opportunity.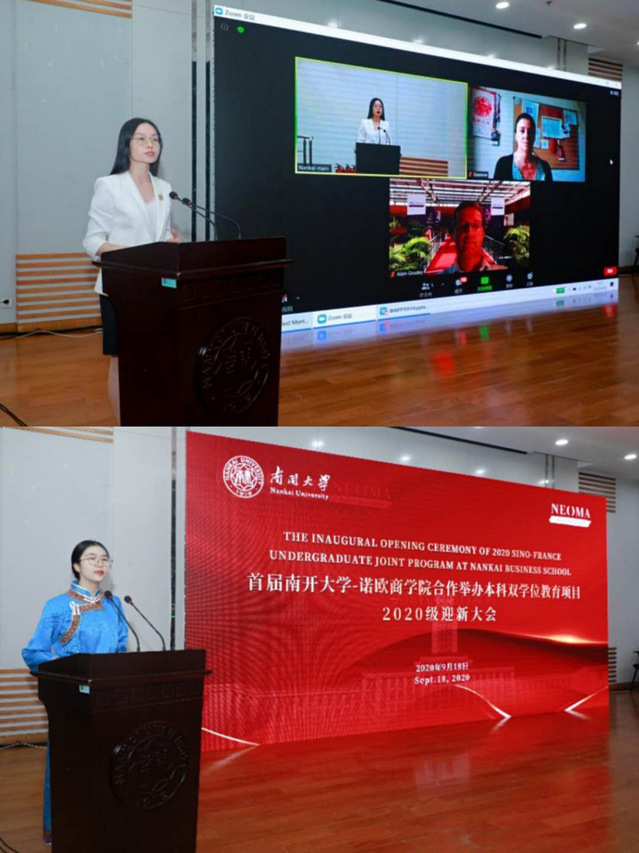 Teachers and students' representatives also delivered speeches. They felt it is a great honour to be able to participate in the opening ceremony of the Program and they are encouraged by the speeches made by the leaders. They look forward to actively participating in the Program in the future.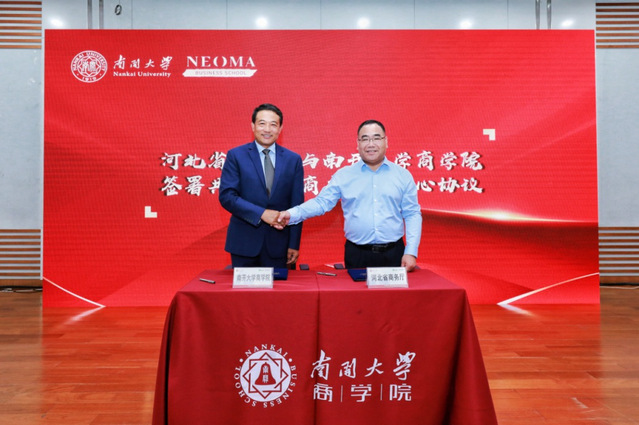 Afterwards, Hebei Provincial Department of Commerce and Nankai University's Business School signed the joint construction agreement of the Research Centre of Digital Commerce. On the basis of the existed long-term cooperation, the two sides will respond to major strategic issues in the field of Digital Trade and Digital Commerce in the digital era, will deepen the cooperation among government, industry, University and research, and cultivate high-end professionals in the field.
The ceremony successfully ended with the anthem of Nankai University. Prof Alain Goudey, NEOMA's Chief Digital Officer, Prof Xin Luo, lecture professor of the University of New Mexico, US, Fei Xiao, person in charge of Marketing in JD Digits and Guohua Han, Manager of IBM Services Greater China, gave students wonderful keynote speeches on some popular topics of e-business.
Officially approved by the Ministry of Education in 2017, Sino-France NEOMA International Joint Program is an undergraduate and double-degree educational program cooperatively constructed with NEOMA Business School in France. The Program has promoted the innovation of management system of Sino-foreign educational cooperation of Nankai University and has become a brand of international joint education of Nankai University. The Program introduces Bachelor degree courses, teaching plans and modes of NEOMA Business School in France. Combined with the disciplinary advantages of Nankai University, it customizes the curriculum and teaching & training plan recognized by both sides, and explores the international talent training mode with both Chinese characteristics and tradition of higher education in foreign countries. The graduates of the Program will receive a Bachelor double-degree in E-Business from both Nankai University and NEOMA Business School in France. With their excellent ability of English language and comprehensive professional skills, they will be widely recognized by all walks of life and international universities.
( Reported by Rong Li, Translated by Yuchen Shi, Edited by Davide Francolino and JianjingYun)