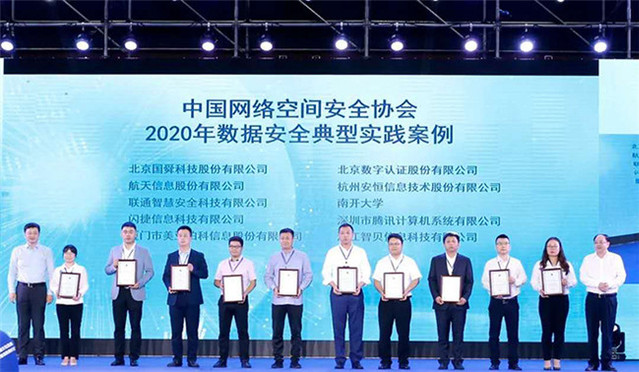 On 14th September, at the "2020 Data Security Summit Forum" held in Chongqing, Cyber Security Association of China and Chongqing Cyberspace Affairs Office jointly released the Typical Practice Cases of Data Security in 2020. Among these cases, the research of the team of Professor Liu Zheli of Nankai University - Privacy-protected Multi-platform Joint Advertising Recommendation Business - stood out after heavy screening and has been successfully selected as one of the top ten typical practice cases, being the only case conducted by a university.
Based on the algorithm cooperatively developed by Nankai University and Tencent, Privacy-protected Multi-platform Joint Advertising Recommendation Business realizes the business value mining between different platforms or enterprises under the premise of data confidentiality, specifically including multi-platform joint precise advertising recommendation. So far, this function has been applied in Tencent-JD, Tencent-Kwai's advertising recommendation business, with an average number of exchanges of encryption completed dozens of times per month, with encrypted data reaching billions of magnitude, and advertising consumption covered in 2019 reached billions, helping Tencent's advertising business to expand the algorithmic capabilities based on data cooperation and advertising conversion rate calculation under the premise of privacy protection. Under the premise of data security, without revealing user identities and other information, the algorithm can help both parties to effectively track advertising effects.
This case selection was officially released after strict reviews and research by experts, having authenticity, originality and independent intellectual property rights. They have been applied in practice and achieved good results with strong practicability, reproducibility and representativity. The release of typical practice cases of data security reflects the specific measures and advanced experience in data security protection of China and plays a positive role in promoting the healthy and orderly development of China's data element market, enhancing the awareness of data security and personal information protection in the whole society. It also provides reference for China's experience and Chinese solutions for global data security protection and data governance.
The "2020 Data Security Summit Forum" is co-hosted by the Smart Expo Organizing Committee and Cyber Security Association of China. It is an important event during the 2020 Online China International Smart Industry Expo and the Chongqing Cyber Security Promotion Week, with the theme of Escorting the Digital Economy, Discussing the Data Security, revolving the implementation and promotion of the Cyber Security Law (Data Security Law (Draft) ) and other regulations and policies, to conduct discussions and exchanges on topics such as data security protection technologies and principles and the current status and prospects of the data security industry.
(Reported by Renming Qiao, Translated by Mengya Pan, Edited by Davide Francolino and JianjingYun)