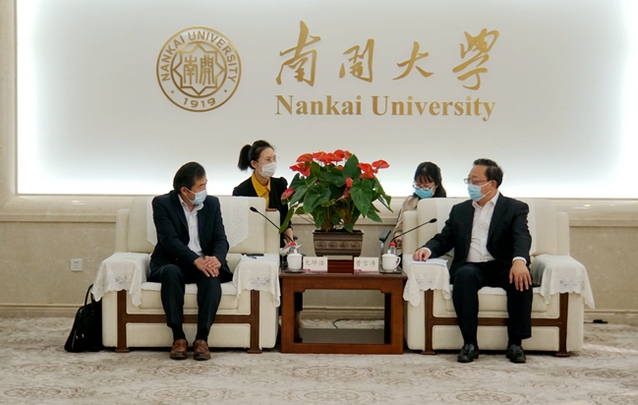 On September 21, Ootsubo Kou, general manager of Tianjin Sumitomo Commercial Co. Ltd., and his party visited our university. The university president Xuetao Cao met with the guests at the Jinnan campus.
Cao extended a warm welcome to Ootsubo Kou and his party for their visit and expressed heartfelt thanks to Sumitomo Group for its support of Nankai University over the years. Cao also introduced the recent developments that the university has undergone. He said that Nankai was in a critical period of entering a new century and accelerating the construction of Double First Class Universities. During the process, the university is putting a high premium on international exchange and cooperation. Nankai University and Sumitomo Corporation boast a friendly relationship throughout a long history of exchange and close cooperation. We hope that the two parties can further deepen cooperation in areas such as student exchange, cultural communication and scientific research, creating a fresh atmosphere of friendly exchange between the two entities.
Ootsubo Kou said he was very happy to come to Nankai and introduced his work experience, the basic situation of Sumitomo Corporation and the future development plan of the group. It is hoped that the two entities will continue to maintain close contact, deepen further exchange and explore cooperation in more fields.
The head of the International Cooperation and Exchange Office accompanied the meeting.
Sumitomo Corporation of Japan was established in 1919. It is one of the Fortune 500 companies and was also a member of Japan's top five general trading companies. Our university has had more than 20 years of exchanges with Sumitomo, and the friendly relationship between the two parties has been developing continuously . Starting in 1996, Sumitomo Corporation has offered the Sumitomo Commercial Scholarship in our university to support outstanding students of our school. In 2006, the Tianjin Foreign Affairs Office, Nankai University and Sumitomo Corporation of Japan signed the establishment of a lecture series entitled Tianjin Foreign Affairs Office• Nankai University • Sumitomo Corporation. Since 2011, Sumitomo Corporation has invited 10 students from our school every year to the company to participate in short-term corporate training activities to promote cultural exchange between China and Japan. In 2015, the Sumitomo Commercial Scholarship was changed into the China Sumitomo Scholarship for International Exchange Students", sponsoring two outstanding undergraduates to come on an exchange in Japan every year. In 2018, the two parties reached an agreement to strengthen cooperation and exchange as well as renew the exchange student scholarship agreement.
(Reported and photographed by Jingqiu Hao, Translated by Menglin Lu, Edited by Davide Francolino and JianjingYun)