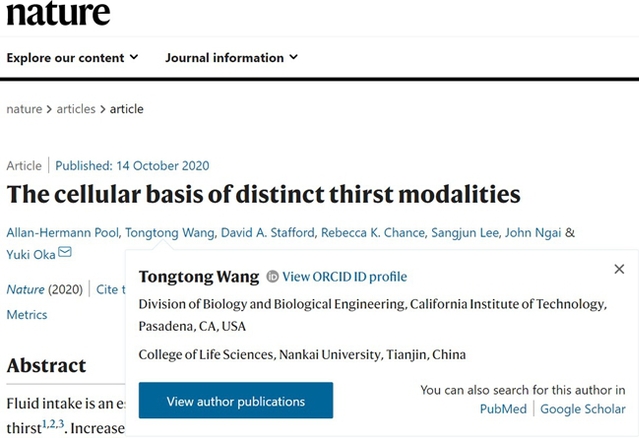 Why do people want to drink water after eating salty potato chips, and why do they want to drink sports drinks after exercise? On October 14th, US Eastern Time, the top international academic journal Nature published online a recent result of the research team of Professor Yuki Oka of the California Institute of Technology, explaining the basis of the cells and brain circuits that act upon everyone'sdaily behavior. It is worth noting that Wang Tongtong, the second author of the paper, is an undergraduate from the Boling Class of Biology at Bolin College of Nankai University's top-notch student training program in basic disciplines.

Figure 1 Schematic diagram of the cellular basis for regulating the two thirst modalities.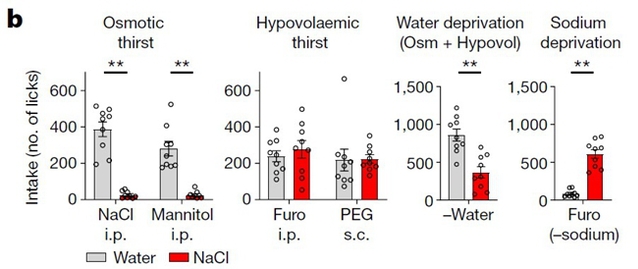 Figure 2b: The intake of pure water (gray) and NaCl solution (red) in mice in different thirst modalities.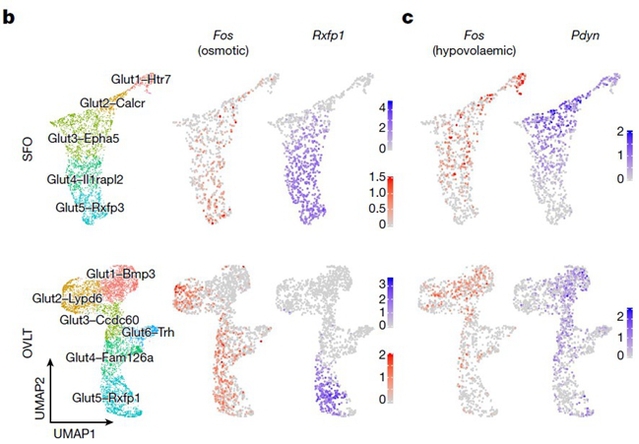 Figure 3b and c: Fos gene expression in two thirst modalities (red)
This study explains for the first time how the brain distinguishes and regulates the two thirst modalities and reveals neuronal groups with specific regulatory functions, which verifies the causal relationship between the functions and behaviors under study. The results of the study indicate that the central sensory system does exist, and is characterized as a model of different physiological states mediated by different types of cells.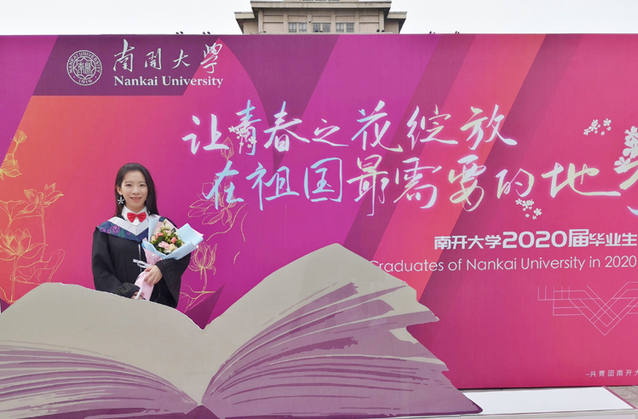 I am very fortunate to have gone to the United States for scientific research and training under the funding of the Boling Class of the College of Life Sciences, and have achieved some valuable results within a year. I would like to thank the teachers and students of Nankai University and the California Institute of Technology for their guidance and help. Wang Tongtong said.
In 2009, Nankai University was approved for the first batch of the national Everest Plan, and set up four Boling classes in mathematics, physics, chemistry and biology, and then in 2010, Boling College was established. The purpose of the Boling Class is to recruit and train outstanding students who have a strong interest in relevant basic disciplines, and promote them to become outstanding innovative talents with international competitiveness. During their studies, they received high-level scientific research training and participated in the publication of papers in some top international academic journals. Since 2016, Nankai University has expanded the top-notch program (Boling Class) to the humanities and social science fields such as economics and history. In September 2020, 6 bases in mathematics, physics, chemistry, biology, economics, and history of Nankai University were selected as the first batch of the top-notch student training program 2.0 bases for basic disciplines of the Ministry of Education, ranked second in number countrywide.
Paper Link: https://www.nature.com/articles/s41586-020-2821-8
(Reported by Junhui Wu, Translated by Yan Cao, Edited by STEFAN SARAH DANIELLE and JianjingYun)