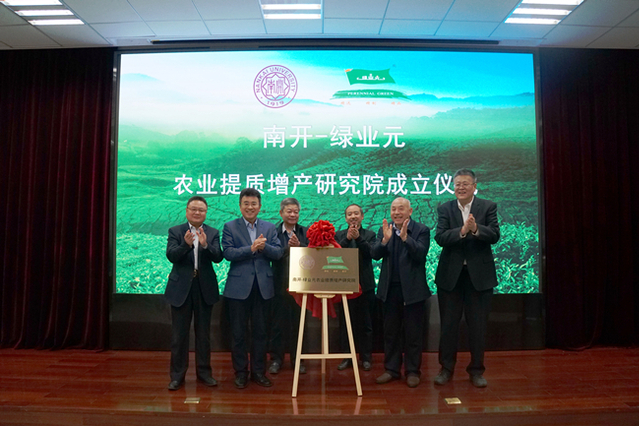 On November 14, Nankai-Lvyeyuan Institute of Agricultural Quality and Production Improvement (hereafter called the Institute) was unveiled. It will build an industry-university-research system for innovation through school-enterprise cooperation, assisting with high-quality development of our country's agriculture.
The opening ceremony was held in the Shixian Building, Balitai Campus, Nankai University. President of the Lvyeyuan Group Fan Guofang, executive vice president Wang Xueji, vice presidents of Nankai University Li Jing and Chen Jun, director of the College of Chemistry and National Engineering Research Center for Pesticides (Tianjin) unveiled the institute together.
Fan Guofang shared his deep feelings cultivated over his forty years of dedication to the agricultural industry in the speech. He said, Joining hands with Nankai University to establish the institute, I hope that both sides utilize their respective advantages, constantly promote school-enterprise cooperation, and push agricultural production to a new stage.
Chen Jun noted that since the founding of the Institute of Elemento-organic Chemistry in the 1950s, the institute has made outstanding contributions to the development of our country's pesticidal discipline and pesticidal enterprises. We hope that the institute will continue to make new and greater contributions to the agricultural modernization of our country.
The institute will give full play to Nankai University's advantages in the chemistry discipline, plant protection discipline and life sciences, as well as the Lvyeyuan Group's advantages in production, promotion and market feedback. It will be oriented to quality and production improvement of crops, conduct research on the application of basic science during the whole cycle of the crop's growth based on the understanding of the molecular mechanism of plant's growth and development, explore ways to increase the crop's overall photosynthetic capacity, to control the key nodes in nutrient transportation and formation of yield traits, to increase the harvest index, to improve adversity resistance etc.
The Lvyeyuan Group, founded in 1989, is a specialized company that is engaged in pesticide development, manufacturing and marketing. The group is leading the domestic industry with 7 branches, over a thousand staff members and annual sales revenue of more than 2 billion yuan.
(Reported by Fang Lan, Photographed by Fang Lan, Translated by Junlin He, Edited by STEFAN SARAH DANIELLE and JianjingYun)