On April 21, Wei Fuwen, a conservation biologist, also Academician of the Chinese Academy of Sciences and Academician of The World Academy of Sciences, gave a lecture themed "Conservation Biology" as one of Nankai University's "Led by Masters" general education course series "The Current Situation and Prospect of Biological Sciences". Nearly 200 teachers and students from Nankai University attended the event online and offline.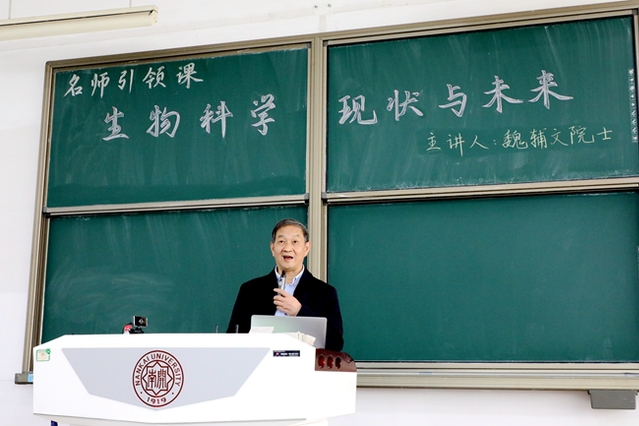 Based on his own study experience, Academician Wei Fuwen introduced his research history on giant pandas since the 1980s. From the initial long and arduous field investigations and record to the summarization of rules and the introduction of novel technologies such as metagenomics and comparative genomics into the study on giant pandas, he has always stayed true to his original intentions and endeavors to explore the scientific field. For example, he successfully illustrated the population history, the endangered process and evolution potential of giant pandas and revealed their adaptive evolution of shape, behavior, physiology and intestinal microorganisms in the process of giant panda specialization. The "conservation evolutionary biology" and the "conservation metagenomics" as two new subdisciplines put forward by Academician Wei Fuwen have contributed a lot to the development of conservation biology. The stable isotope analysis technology and nutrition geometry model analysis technology and other theories he introduced have also further promoted the researches of conservation biology. In addition, based on China's idea of "Heaven and Man United as One" and years of researches and reflection, he stated that we human belong to the nature, and that's what helps to attain the goal of harmonious coexistence between human and nature at a higher level.
During the lecture, Academician Wei Fuwen uncovered the mystery of "horse manure rolling" behavior (HMR) of giant pandas by clarifying that the "cold-resistant material" caryophyllene and caryophyllene oxide in the horse manure can help giant pandas' skins withhold the cold feeling, further demonstrating that the HMR serves as a survival strategy developed by giant pandas to obtain protection against the cold. Besides, he also explained the mechanism of giant pandas to maintain low-energy metabolism in the view of morphology, ethology, physiology, genetics and genomics.
The whole lecture has been rigorous and lively, inspiring and stimulating as well as easy to understand, hence all the teachers and students benefited from it.
(Reported by Jinming Liu, translated by Lei Wang, edited by Davide Francolino and JianjingYun)