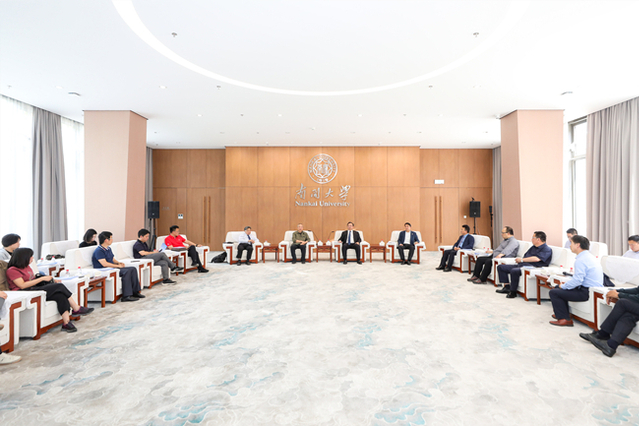 On May 19, Nankai University and Shenzhen BGI Gene Technology Co. Ltd. formally signed an industry-university-research cooperation agreement under the "Nankai University-BGI Joint Research Center" at Haibing Center, Balitai Campus. The two sides will give full play to their abilities to carry out industry-university-research cooperation through various forms, so as to promote the mutual progress and common development of disciplines and industries.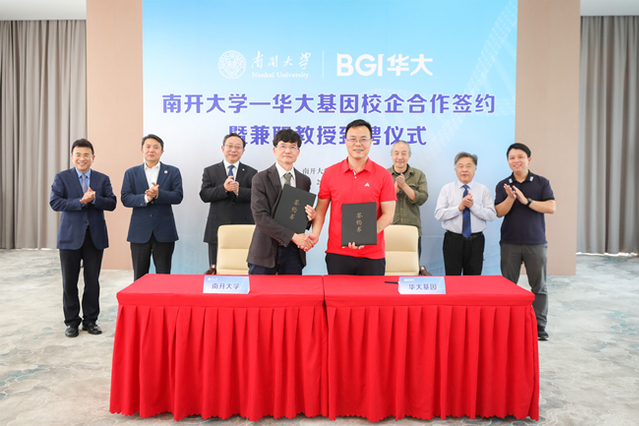 Chen Quan, Dean of the College of Life Sciences of Nankai University, and Xu Xun, CEO of BGI Group and Dean of Shenzhen BGI Institute of Life Sciences, signed the cooperation agreement on behalf of both parties.
Cao Xuetao, President of Nankai University, and Wang Jian, Chairman and co-founder of BGI Group, jointly unveiled the "Nankai University-BGI Joint Research Center".
Cao Xuetao thanked BGI for its trust and support to Nankai University. He said that as one of the world's leading organizations in Life Sciences, BGI has made outstanding contributions to the development of Genome Science in China and around the world. This cooperation is a strong alliance, and he hopes that both parties will make the best out of their mutual advantages and strive to achieve successful school-enterprise cooperation and a win-win situation for industry and academia.
Wang Jian said that BGI has long been committed to using genomics to benefit mankind and to protect people's health. Nankai University has got first-class scientific research platforms and a solid faculty, so they hope to cooperate with Nankai University to further contribute to the cause of people's life and health.
Founded in 1999, BGI is one of the world's leading Life Sciences organizations. It follows a genomics development model of"research, production and application". With businesses in more than 100 countries and regions around the world, BGI has established extensive cooperation with all parties involved in the industry chain. It is committed to applying its genetic and technological achievements to real world settings in order to realize the dream of gene technology for a better life.
(Reported by Kun Fu, photographed by Qiqi Zong, translated by Dongze Wu, edited by Davide Francolino and JianjingYun)