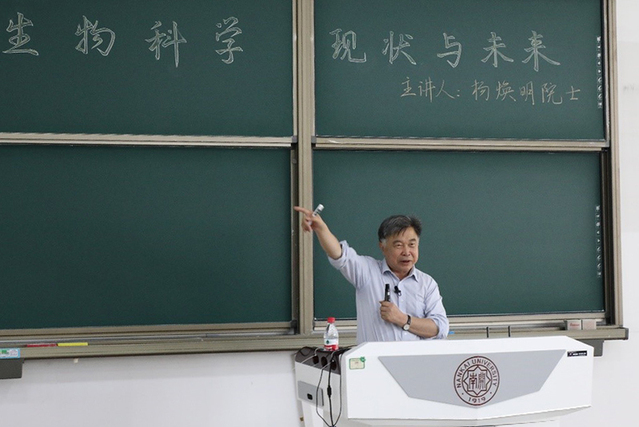 On May 19th, Yang Huanming, an academician of the Chinese Academy of Sciences, a member of the Chinese Academy of Medical Sciences, and the co-founder of BGI, visited Nankai University and delivered a vivid Led by Masters general education course to more than 200 students. The theme of this course is Inheritance and Innovation. Yang Huanming's lecture was mellow and passionate, which led to the deep investment of the teachers and students present.
Yang Huanming first shared his experience as a teacher. He said that he still insists on giving basic lessons to students, giving us a strong example of the axiom that it is never too late to learn.
When talking about genomics, he asked a series of questions relating to Covid-19. He guided the students to think about questions on the spot, like "What have we learned in fighting the pandemic?" "What can the sequence change?"By doing so, Professor Yang explained the role of qPCR technology in virus detection and sequencing and omics technology in vaccine development.
Life is still a mystery to me. Yang Huanming said with emotion. There are still many mysteries of life waiting for us to study and unearth, and big data omics undoubtedly opens a window and a door to reveal the mystery of life. With this powerful tool, we will find more wonderful things in the field of life sciences in the future.
Professor Yang talked about the current Covid-19 from influenza virus, AIDS and SARS virus. He believes that although human beings currently know very little about such a tiny existence, the sciences are helping us gradually understand these miniscule lives. The double helix structure of DNA of the first revolution in life sciences to the following analysis of DNA continuity (inheritance) and diversity (variation) are both contributing factors in our increased knowledge. Moreover, both the completion of the Human Genome Project of the second revolution that followed, and the third field revolution Genome Editing (Synthetic Biology) add luster to life science research.
Before the class, Academician Yang also had discussions and exchanges with more than a dozen Nankai students. He analyzed and answered their questions with patience.
(Reported by Jinming Liu, translated by Qi Zhu, edited by Daniel Stefan and JianjingYun)