Sponsored by 12 ministries and commissions of the central government including the Ministry of Education together with Jiangxi Provincial People's Government, the finals of the 7th China International College Students' "Internet +" Innovation and Entrepreneurship Competition was held in Nanchang University from October 12 to 15. Nankai University finally pocketed three gold, two silver and four bronze awards, which is the best result that we have achieved at the event.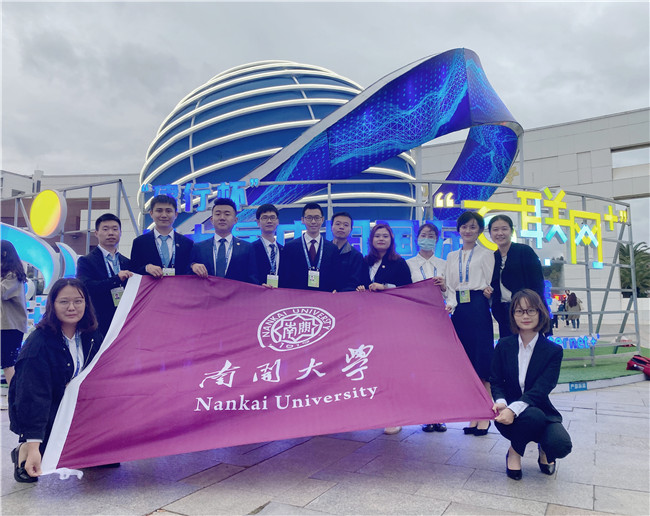 With the theme of Dare to Differ, Dare to Win, the Competition saw over 9.56 million participants coming from 4,347 colleges and universities in 121 countries and regions across the world. More than 2.28 million projects were entered, of which 1,085 projects were shortlisted for the finals. The event reached a new record high in both quality and value. Since its establishment in 2015, the Competition has actually turned into an important carrier for deepening innovation and entrepreneurship education reform in China, a stage for realizing the innovation and entrepreneurship dreams of college students worldwide, and a platform for humanistic exchanges between China and the rest of the world.
During the event, both the School of Pharmacy and the College of Electronic Information and Optical Engineering won a gold award of higher education group for Nankai University with "AccRate – the World's First Anti-cancer Targeted Drug Sensitivity Testing Technology Definer and "Huan Yu Xing Tong - China's Satellite-borne Laser Amplification Leader", respectively; the College of Life Sciences earned a gold award of "Journey of Youth to Red Dream" group with the project "Nature Guardian - Green Biological Pest Control Technology ; the School of Pharmacy also won a silver award of higher education group with the project Molecular Armor – a New Safe Storage and Transportation Technology to Free Biological Drugs from the Cold Chain; and the College of Environmental Science and Engineering harvested a silver award of "Journey of Youth to Red Dreams" group with the project Efficient and Low-cost Local Disposal Technology and Model Innovation of Urban and Rural Garbage, an Effort to Empower the Construction of Beautiful Villages".
Furthermore, the College of Life Sciences, the College of Artificial Intelligence and the School of Medicine each pocketed a bronze award of higher education group by virtue of "'Qifu (Wonderland)' - the Stem Cell Bionic Empowerment System", the "Smart Therapy - the World's First Intelligent Aid System for Brain Function Disease Diagnosis and Treatment; and the BKMAN - Biomedical Experimental Consumables Procurement and Service Provider, respectively; and the School of Literature earned a bronze award of "Journey of Youth to Red Dreams" group by virtue of the project "School-Military Integration - Outposts for Cultivating Military Talents.
(Reported by Li Wenru and Ma Xiaochun, edited and translated by Nankai News Team)