On October 20, the 2021 Oracle Cup "Chinese Characters and I" Speech Contest for International Students was held in Anyang City, Henan Province. Hou Zimo (Nozimov Sharifkhuja, Class of 2021), a Master-degree student from Tajikistan, majoring in international education from the College of Chinese Language and Culture, won the championship. Zhou Jingya (Repmann Carla, Class of 2018), an undergraduate student from Germany, studying in the School of Literature, won the Best Language Award.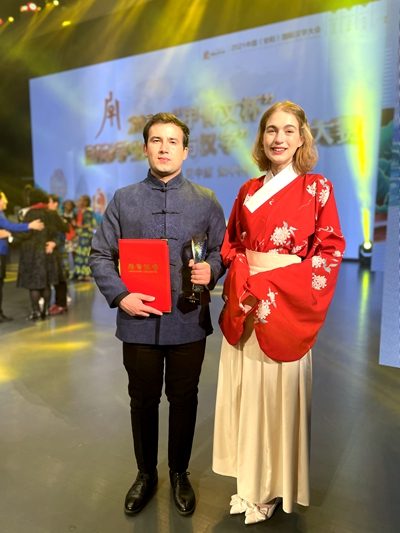 Hou Zimo (left) and Zhou Jingya (right)
With the theme of "telling the story of your visit to Anyang and introducing your experience in the Central Plains of China to the world", the contest attracted students from nine universities, including Nankai University, Beijing Foreign Studies University, Beijing Language and Culture University, etc. International students from Russia, South Korea and other countries elaborated their knowledge and understanding of Chinese characters, Anyang City and the Central Plains from various perspectives.
(Reported by Jiangzhiruo and Dong Shuhui, edited and translated by Nankai News Team.)