On November 16, the Teaching Excellence Summit themed Building Knowledge, Transforming Skills jointly held by Nankai University and Times Higher Education was opened. Nearly 50 leaders and renowned experts and scholars from 32 world-renowned universities and higher education institutions in 13 countries and regions gathered as speakers for the conference. The Summit carried out a three-day in-depth exchange and discussion over the four topics of Delivering quality education with impact, Engendering critical thinking in the post-pandemic workforce, Classroom innovation: Is technology always the answer?, and Measuring success: The transformative impact of teaching to give suggestions and proposals to the realization of the excellent teaching in higher education and the construction of world-class universities.
Cao Xuetao, academician of the Chinese Academy of Engineering and president of Nankai University, Phil Baty, chief knowledge officer of Times Higher Education, Carl Wieman, 2001 Nobel Prize Laureate in physics and professor of Stanford University, Gong Ke, president of World Federation of Engineering Organizations and former president of Nankai University, and Wang Lei, vice president of Nankai University, etc., attended the opening ceremony.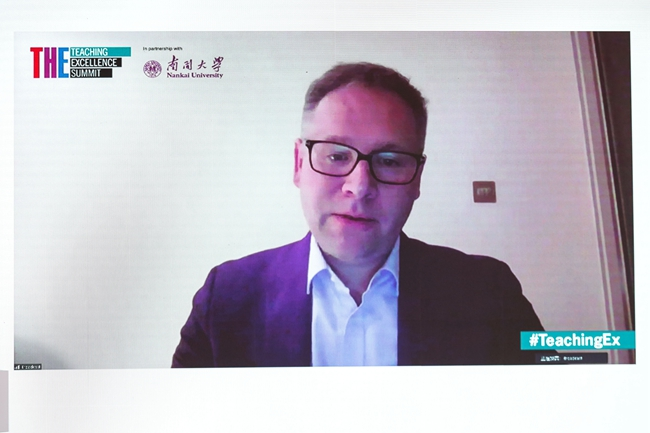 In his address, Phil Baty said that since the outbreak of COVID-19, university campuses around the world have faced closed-off management. To continuously provide education and teaching resources, educational institutions have carried out diverse new teaching attempts on online platforms. Many argue that online teaching cannot be compared to classroom teaching, because students are lack of classroom concentration and interaction facing the screens, resulting in a dramatic reduction in the learning effect. However, some research data point out that the integration of online teaching into the new media of science and technology yields creative teaching practices for teachers and students, showing good teaching effects and the screen has become a new bridge between the campus and students. It is undeniable that traditional teaching is moving out of its comfort zone. In collaboration with Nankai University, Times Higher Education hosts the first post-COVID-19 Teaching Excellence Summit, hoping to discuss with experts and scholars on the diversified development of higher education in the post-COVID-19 era and to share insights on the provision of quality educational resources for students and society.
After the opening ceremony, Cao Xuetao delivered a keynote speech entitled Implementation of Teaching Excellence at Nankai University in the New Era. He introduced the understanding and exploration of teaching excellence at Nankai University in the past hundred years and shared the profound thinking of China's top tier universities on the future development of higher education in the world.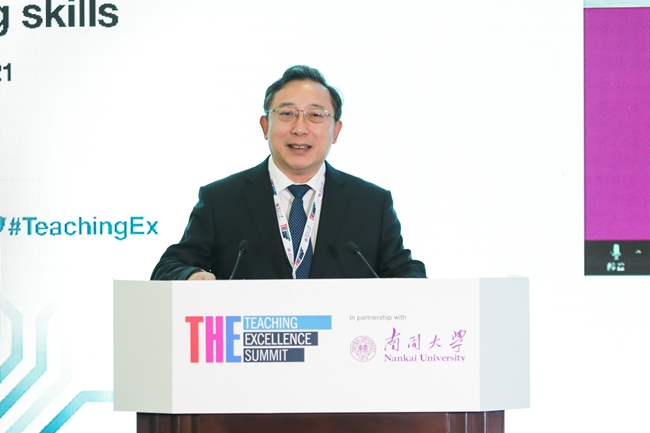 He reflected the teaching practice of Nankai from history to present. He said that Nankai University has always been an active explorer and practitioner of teaching excellence for Chinese higher education, adhering to the motto of "Dedication to public interests, acquisition of all-round capability, and aspiration for progress with each passing day" and the tenet of "Knowing China and serving China". He mentioned the "4211 Seeking Excellence Initiative" launched at the university's centenary in 2019, which aims at promoting the development of the university in the new century with teaching excellence and outstanding scientific research, providing the society with high-quality educational resources and academic research achievements. He indicated that Nankai University's teaching philosophy is derived from Nankai's motto, which emphasizes on the tradition of patriotism, commitment, competence and innovation. He introduced a serious of student-oriented teaching plans, such as the "8+4+X" talents selection system on the basis of undergraduate programs, the smart college system and O-AMAS effective teaching method that belonged to the shared development community for teachers and students.
At the same time, the university provides students with a diversified curriculum system and more flexible online and offline teaching resources, while adhering to the open-up enrollment by aiming at the construction goal of a world-class university, giving teachers and students a broad international perspective and opportunities to pursue excellence. He said that "Nankai University always focuses on global mind and openness." and pointed that high-end cooperation projects with world-class universities and Nankai's active participation in global educational governance.
President Cao also pointed out that our world is undergoing the most unprecedented and profound changes. A new round of technological innovation and industrial transformation is burgeoning. Social and cultural diversity are continuously accelerating. The uncertainty of the global pandemic has brought new challenges to higher education, in integration, connection, and coordination. Our discussion today is of great significance for resolving these dilemmas in revolutionary ways. Colleges and universities should deepen consensus and carry out close collaboration in the field of teaching excellence, pool their efforts in talent cultivation, teaching reform, curriculum development, research cooperation, and international exchanges, etc., and join hands to cultivate global talents facing the world and the future. Especially in the post-pandemic era, teaching excellence is vital for students' development and guiding them to be responsible for the involvement in the world and building a community of shared future of mankind, and finally leading them to make contributions to the prosperity and development of the world.
Carl Wieman introduced a new learning paradigm in his keynote speech Implementing Meaningful Learning: Making Wise Decisions in a Changing World. He pointed out that the traditional classroom is an ocean of knowledge and that the secret to successful landing is a smart brain. Compared with traditional classroom teaching, the new learning paradigm can start from brain science to study the human brain's reaction to teaching behavior and understand the general decision-making mechanism of human brains according to scientific research and data feedback, which can be introduced into the training mode of higher education for the establishment of a research-oriented classroom, guiding all brains, smart or not, to do exercises like building up the body.
In his speech, Carl Wieman analyzed some existing research progress through data and case studies. He said that scientific and technological development has created favorable conditions for conducting relevant experiments and that COVID-19 has also prompted educational institutions to integrate smart teaching methods into traditional classrooms. We should continue to collect data of students' feedback on classroomand carry out teaching research and evaluation to achieve excellent and effective teaching.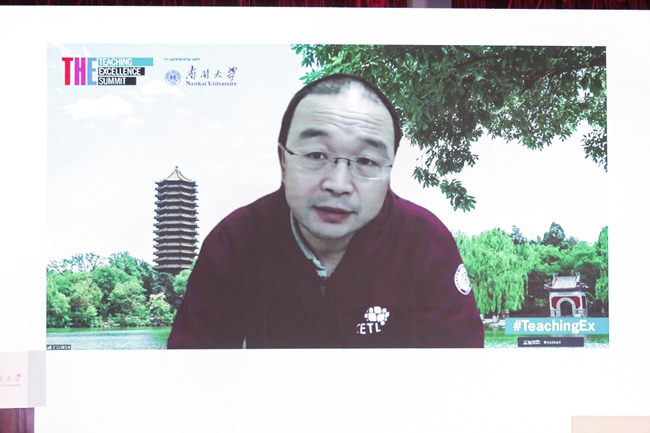 Sun Hua, director of the Faculty Teaching Development Center at Peking University, introduced online teaching at Peking University in response to COVID-19 with the title of Redefining Quality Education in the Post-COVID-19 Era. He said that during the epidemic, Peking university carried out online teaching and accumulated course resources, and conducted exploration of the combination of online and offline teaching. Online teaching, as a useful supplement to offline teaching, has gradually been understood and accepted by students, in which the scene of international education has changed and big data has been applied to educational research earlier than expected.
We should embrace online education and expect big data and artificial intelligence to bring new experiences for effective teaching interaction between teachers and students, Sun Hua said. The mission of education is not only to impart knowledge but more importantly to cultivate students' virtue to provide power for the growth and follow-up career development of students. We should encourage technology-driven education reform to make a more positive contribution to interdisciplinary talent cultivation and promote fairness in education, which is the mission and responsibility of world-class universities.
In the following session, Gong Ke, Anton Muscatelli, president of the University of Glasgow, Susanna Leong, vice-provost of the National University of Singapore, and Euiho Suh, vice president of the Ajou University presented their views on How to foster a passion for lifelong learning for universities.
Gong Ke said that there is a social notion that higher education is the last station of education, which now needs to be changed. The constantly changing and developing society needs lifelong learners and universities should focus on cultivating students into lifelong learners, enhancing learning skills of students and helping them cultivate good learning habits so that students can keep improving themselves and serve for the society after graduation. Meanwhile, with lifelong learners as the training objective, the evaluation mechanism of both universities and students needs to be further improved. Citing the changing requirements of global climate change for engineers' skills as an example, he called on universities to serve society more and promote their active roles in continuing education, adult education, and vocational training with cutting-edge interdisciplinary research.
During the three-day summit, experts and scholars from around the world discussed and communicated on such topics as "Building inclusive campuses in an online world", "Creating a quality teaching environment", "What should students learn for the age of VUCA and AI", "Is it a new era of experiential learning?", "The value of critical thinking in a post-pandemic world", "How to tell college stories more effectively", "Classroom disruption: Is this the end of the traditional lecture theatre?", "Innovation in STEM teaching: lessons from the past year", "How the university mode will change by 2030", "The transformative impact of teaching on research institutions", "What can the rankings tell us about the quality of teaching?", and "What is the long-term effect of online learning?", etc.
(Reported by Lan Fang, photographed by Zong Qiqi, edited and translated by Nankai News Team.)