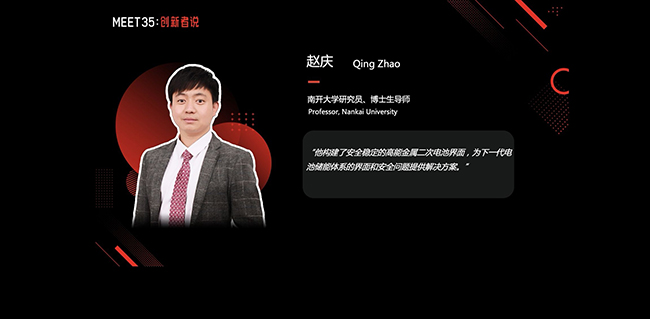 On January 22, the winners of the fifth MIT Technology Review "Innovators Under 35 China" (MIT TR 35) in 2021 was released, and Professor Zhao Qing, a researcher from the College of Chemistry of Nankai University was selected.
Zhao Qing received the doctor's degree in inorganic chemistry from Nankai University in 2017 with Academician Chen Jun as his supervisor and then went to Cornell University to engage in post-doctoral research. He joined Nankai University as a full-time researcher in 2021. The organizer of "Innovators Under 35 China" indicates that Professor Zhao has built several types of safe and stable high-energy metal secondary battery interfaces, providing methods to solve the interface and safety issues of the next generation energy storage system.
The secondary battery with the metals (including lithium, zinc, aluminum, etc.) as negative electrode is considered as the promising next generation of electrochemical energy storage system. By synthesizing organic-inorganic composite interface on the metal surface, designing epitaxial growth interface, optimizing the solid electrolyte interface and any other methods, Zhao Qing improved the physical and chemical properties of the negative surface and interface, realized the uniform reversible deposition of various metal negative electrodes, while constructed several types of metal secondary batteries with the superior properties of high energy density, long cycle life and safety and stability. All these related achievements offer a new idea on how to construct an interface with fast ion conductivity, high chemical/electrochemical stability and high mechanical strength.
The list of MIT Technology Review "Innovators Under 35", known as one of the most authoritative young talents lists within the sector of science and technology, has been established for more than 20 years. "Innovators Under 35" selects 35 innovation leaders under the age of 35 who have the profound influence on future scientific and technological development from the realm of emerging technologies and innovative applications all over the world every year, including but not limited to biotechnology, energy materials, artificial intelligence, information technology, intelligent manufacturing, etc. In 2017, MIT TR 35 landed in China for the first time, aiming to explore the ever-growing new forces in scientific and technological development in China.
Link to the website of "Innovators Under 35 China":
(Reported by Lan Fang, edited and translated by Nankai News Team)