On April 23, the 2022 China Fintech Research Conference was held online. Over 300 experts and scholars from more than 100 domestic and foreign universities, scientific research institutions, financial institutions, and academic periodicals participated in the symposium online to conduct in-depth discussion on the latest trends, key issues and academic achievements of fintech.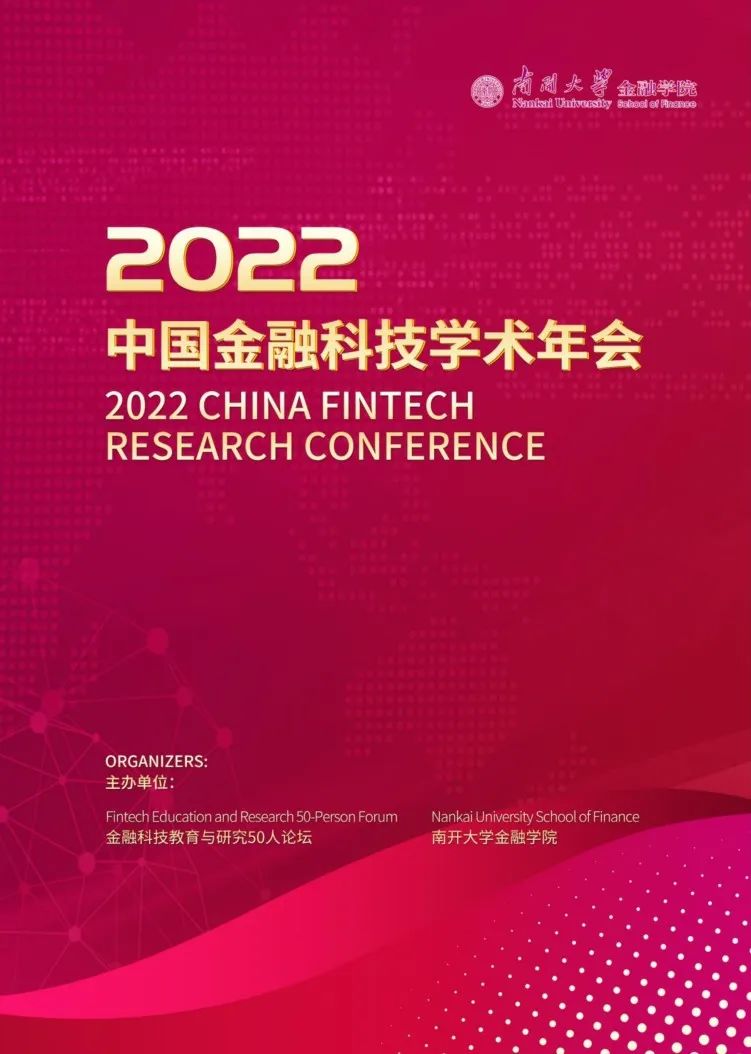 Cao Xuetao, Academician of the Chinese Academy of Engineering and Presidentof Nankai University, said in his opening speech that digitization is profoundly changing the world civilization, and monetary finance is witnessing a digital revolution. In addition, the international monetary finance system has begun to be reconstructed. The speed of our country's financial digitization is also accelerating and financial technology, especially during the epidemic, has enhanced the financial services. These changes have raised new challenges and requirements for financial education and research.
Cao Xuetao said, the School of Finance of Nankai University should further explore the cross-discipline integration with data science, cartificial intelligence, environmental science, etc., focus on key areas such as digital finance and ESG, and try its best to make original contributions in the field of "digital + finance + governance". Meanwhile, this year marks the 40th anniversary of Nankai University's resumption of financial education, and the 2022 China Fintech Research Conference opens the new chapter of Nankai's financial discipline.
After the opening ceremony, Hou Kewei, chair professor of the Ohio State University and editor-in-chief of Journal of Empirical Finance, Han Bing, chair professor of the University of Toronto and editor-in-chief of Financial Management, Zhang Wei, chair professor of Tianjin University and executive editor-in-chief of Journal of Management Science, Fan Xiaoyun, senior professor of Nankai University and executive vice dean of the School of Finance, Nankai University, Blu Putnam, chief economist of the Chicago Mercantile Exchange, and Li Tao, deputy dean of the Financial Technology Training Institute of China Construction Bank Training Center, have successively made a key speech respectively entitled "Factor Pricing and Anomalies: An Investment Perspective", "Forecasting Option Returns with News", "Social Media and Capital Markets", "Financial Risks in the Process of Digitalization", "Event Risk Challenges for Financial Risk Management", and "Opening, Sharing and Collaborative Innovation—Exploration of China Construction Bank Fintech".
This two-day annual conference has set up 38 sub-forums in both Chinese and English. The scholars have conducted in-depth discussions based on 26 topics including the credit market, financial technology and small and medium-sized enterprises, blockchain and digital currency, banking and financial technology, household finance, digital finance, alternative data, behavioral finance, machine learning, and capital market. 38 experts from the University of Chicago, Yale University, Columbia University, Tsinghua University, Peking University and other universities and editorial departments of famous academic journals have served as the hosts of the sub-forums, and 117 reviewers have carried out academic comments. After the expert review, 117 papers, including 60 Chinese papers and 57 English papers, were selected.
(Edited and translated by Nankai News Team)