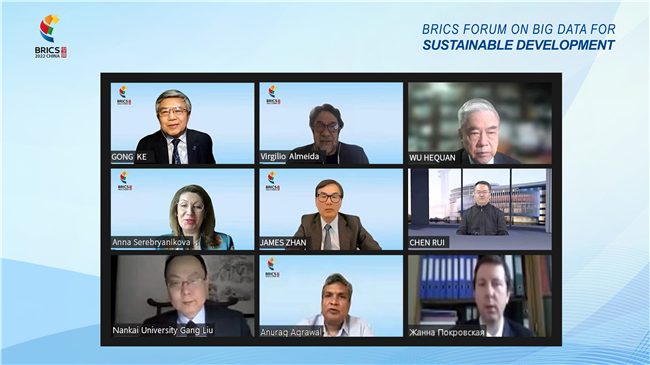 On April 27, the parallel session of BRICS Forum on Big Data for Sustainable Development, "Big Data for Digital Economy", co-organized by the China Association for Science and Technology, Tianjin Municipal People's Government, the Digital Economy Research Center of Nankai University (hereinafter referred to as the Digital Economy Center) and the World Federation of Engineering Organizations-China (hereinafter referred to as WFEO - China), was held online.
The forum was co-chaired by professor Gong Ke, president of the Digital Economy Center and chairman of WFEO-China, and professor Virgilio Almeida from Federal University of Minas Gerais in Brazil. Chen Rui, secretary-general of WFEO-China, delivered a speech on behalf of the organizers, saying that economic and trade cooperation is the "ballast stone" and "propeller" for the BRICS cooperation while digital economy is an important direction.
Eight experts and scholars, including Wu Hequan, academician of Chinese Academy of Engineering, Zhan Xiaoning, director of Investment and Enterprise Division of UNCTAD, Anna Serebryanikova, chairman of Russian Big Data Association, Anurag Agrawal, professor of Ashoka University in India, Oleg I. Karasev, vice president of Lomonosov Moscow State University, and Liu Gang, chief economist of China Institute of New Generation Artificial Intelligence Development Strategies, spoke at the conference, sharing policies and practices of their countries to support the development of digital economy and conducting in-depth discussions on the challenges countries of the BRICS are facing.
In his summary speech, Professor Virgilio Almeida stressed the key factors that support the BRICS to achieve digital transformation and digital sustainability, including good digital literacy, sound digital infrastructure, high-quality cyber security environment, digital governance policies effectively protecting data and privacy, sustained investment in science and technology, and a well-developed digital entrepreneurship ecosystem.
In his conclusion remarks of the Forum, Gong Ke pointed out that the BRICS should strengthen cooperation in the field of digital economy to accelerate the sustainable development of the BRICS and the world.
(Edited and translated by Nankai News Team)