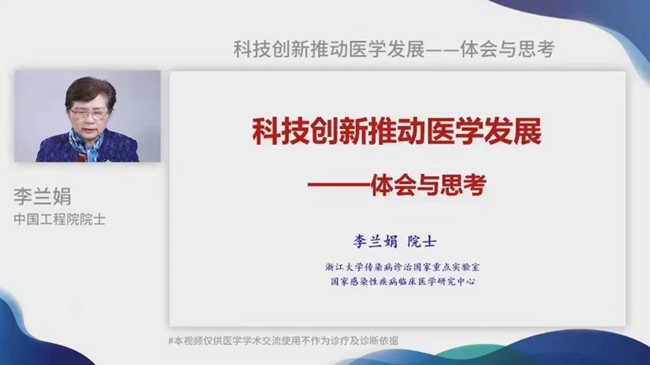 On May 6, the eighth lecture of "Medical Frontiers and Challenges", a general elective course of Nankai University, was held. Li Lanjuan, an academician of the Chinese Academy of Engineering and an infectious disease scientist, gave the online lecture entitled "Scientific and Technological Innovation Promotes Medical Advancement" to Nankai students, sharing her experience and thoughts on medical development and technological innovation. More than 150,000 people attended online. Cao Xuetao, president of Nankai University, moderated the lecture.
Li Lanjuan stressed the importance of scientific and technological innovation. She said that over more than a hundred years – from the discovery of X-rays by Röntgen in 1895 to the application of artificial intelligence in recent years – scientific and technological innovation has played a critical role in leading and supporting medicine and healthcare advancement. Medical science and technology innovation is the core driver for building a healthy China and boosting China's strengths in science and technology. Li Lanjuan pointed out that emerging infectious diseases have always been a significant threat to global security and a severe challenge for mankind. In view of the prevention and control, treatment and scientific research regarding emerging infectious diseases, she talked about the importance of interdisciplinarity. She said that it is precisely thanks to the strengthened interdisciplinarity and large-scale coordination that we have more timely responses to infectious diseases such as SARS, H7N9 and the COVID-19.
Li Lanjuan focused on the application of technologies such as big data and artificial intelligence (AI) in the COVID-19 response, including the role of AI in discovering the source of infection, diagnosis and treatment, as well as drug research and development for emerging infectious diseases such as the COVID-19. Li Lanjuan argued that the combination of new-generation information technology represented by AI with the prevention and treatment of infectious diseases is a new trend that attracts great attention. She mentioned that there are four directions for the development of medical AI: intelligent diagnosis, intelligent treatment, intelligent group health management and intelligent medicine supervision. She encouraged students to play a greater role in these frontier fields in the future.
Li Lanjuan also shared her story of scaling new heights in scientific research, and said that the students should persevere and have the courage to push the envelope in scientific research.
Li Lanjuan also pointed out that as science and technology progress, it is urgent to increase the capacity for innovation in medical science and technology. "Science and technology will always keep advancing. As students, you must make enterprising and pioneering efforts to tackle the existing problems in the field of medicine."
(Reported by Fu Kun and edited and translated by Nankai News Team)