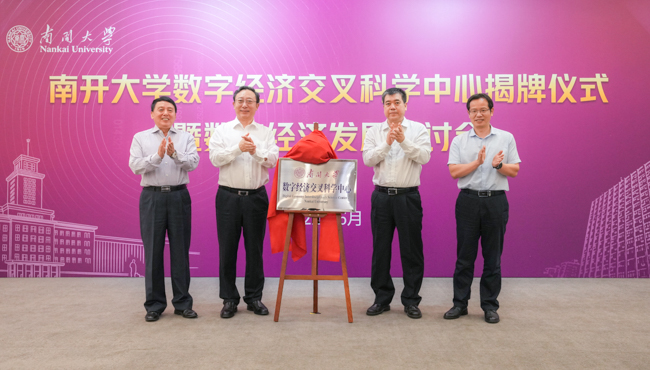 The Digital Economy Interdisciplinary Science Center of Nankai University was inaugurated on June 22. With a focus on the basic theory of digital economy, digital enterprises, digital industry and digital governance, the Center will conduct international cutting-edge scientific research, and contribute to the realization of China's strategy for becoming a strong powerhouse in digital economy.
At the ceremony, Wang Xu, Vice Mayor of Tianjin municipal government, Cao Xuetao, President of Nankai University, Deng Guanghua, Vice Chairman of Tianjin Federation of Social Science, and Tong Jiadong, Director of NKU Digital Economy Interdisciplinary Science Center, jointly inaugurated the Center.
Wang Xu said in his speech that developing digital economy is of great significance and it is a strategic choice to seize the new opportunities presented by the new round of technological revolution and industrial transformations. NKU is a century-old prestigious university, and economics is one of NKU's traditional pillar disciplines. It is hoped that the Center will give full play to its disciplinary advantages, promote China's research on digital economy, and contribute to the high-quality development of national and regional economy and society.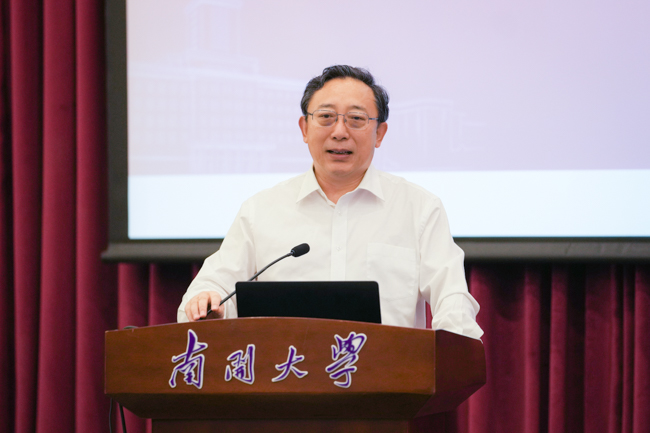 Cao Xuetao said that the establishment of the Center has gathered the wisdom of NKU, particularly economics experts and scholars, and is another key outcome of the establishment of interdisciplinary science centers by NKU. NKU will go all out to support the establishment and development of the Center. It is hoped that the Center will promote interdisciplinary fusion, enhance the capacity for scientific research and innovation, make quality scientific research achievements, and contribute to building up the strength, quality, and scale of China's digital economy.
At the subsequent seminar on the development of the digital economy, Prof. Wu Hequan, an academician of the Chinese Academy of Engineering; Long Guoqiang, deputy director of the Development Research Center of the State Council, and Prof. Gong Ke, Former President of Nankai University and Chair of NKU Academic Committee, gave keynote reports with the titles of "Digital Economy and Interdisciplinary Science", "Leading the Development of Digital Economy with Theoretical Innovation" and "Relationships on the Development of Digital Economy", respectively. Many experts and scholars gave special reports on the topics such as "Digital Economy and Trade", "Artificial Intelligence and Total Factor Productivity", "Tremendous Changes Brought by the Digitalization of Large Enterprises", "Digital Currency Development and International Monetary System", "Anti-monopoly Regulatory Developments on Global Digital Platforms", "Corporate ESG Profiles and Consumption", "Digital Platform Ecosystem, Platform Entrepreneurship and Rural E-commerce Industry Clusters", and "Digital Economy and Quality Development".
It is learned that this Center is one of the ten interdisciplinary science centers established by NKU, and is an important initiative to implement NKU's "4211 Seeking Excellence Plan".
(Edited and translated by Nankai News Team)