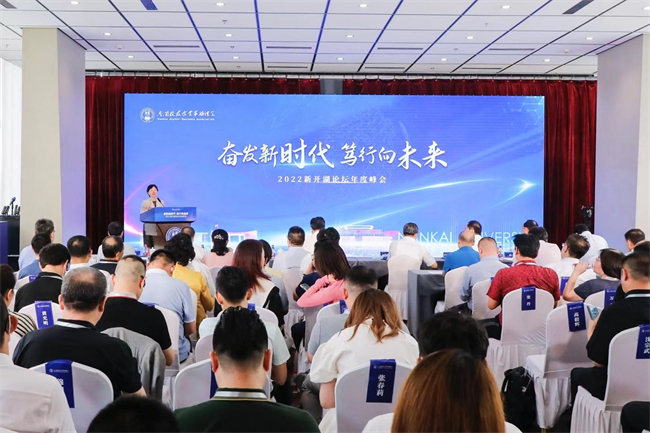 On August 1, the "2022 Xinkai Lake Forum Annual Summit" hosted by Nankai Alumni Business Association was held in Haibing Center of Nankai University. Nearly 100 alumni and entrepreneur representatives, including Ma Jiantang, Vice Chairman of the Economic Affairs Committee of the Chinese People's Political Consultative Conference, Zhang Wenzhong, Chairman of Nankai Alumni Business Association, Founder of Wumart Group and Chairman of Dmall, Zhou Da, Co-Chairman of Nankai Alumni Business Association and Chairman of Kunlun Group, Lyu Zili, Chairman of Blue Shield Group, An Hongjun, Founding Partner and Chairman of Junhe Capital, and Yu Xuefeng, Chief Executive Officer and Chairman of CanSino Biologics, gathered at Nankai campus to conduct in-depth exchanges centering around the current economic and social development.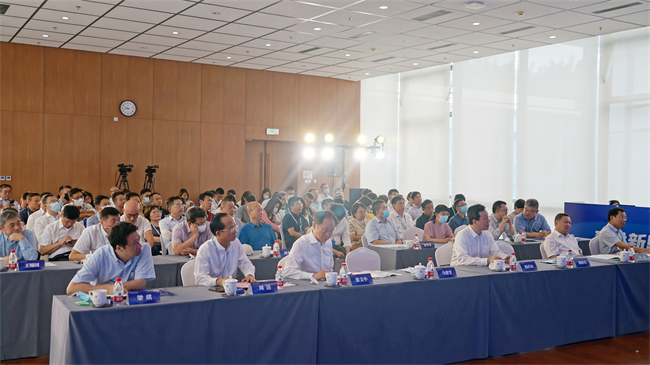 The forum was attended by Yang Qingshan, Secretary of the CPC Nankai University Committee, Xu Jingjun, Executive Vice President of Nankai University, Yang Kexin, Executive Deputy Secretary of the CPC Nankai University Committee, Li Jing, Vice President of Nankai University and Liang Qi, Deputy Secretary of the CPC Nankai University Committee.
Yang Qingshan said in his speech that since the establishment of Nankai Alumni Business Association, it has supported the cause of NKU in various forms, and vigorously supported social welfare, which fully demonstrates NKU alumni's devotion to their alma mater and responsibility for the country. It is hoped that the alumni entrepreneurs will use the platform of Nankai Alumni Business Association to attain common development, and help more alumni to succeed on the road of innovation and entrepreneurship.NKU will also further its efforts to serve alumni and spare no effort to support the their career development.
Zhang Wenzhong said in his speech that the Xinkai Lake Forum is an iconic brand summit of Nankai Alumni Business Association. All of our alumni entrepreneurs should keep in mind the mission of the Association, that is, firstly, to promote exchanges, interactions and mutual learning among alumni for better resource sharing and common development; secondly, make contributions to expanding the international influence of the Nankai; and thirdly, to contribute to the economic development of Tianjin.
Ma Jiantang and Yu Xuefeng delivered keynote speeches on the themes of "Current Economic Situation" and "China's Innovative Vaccine Approved by WHO" respectively.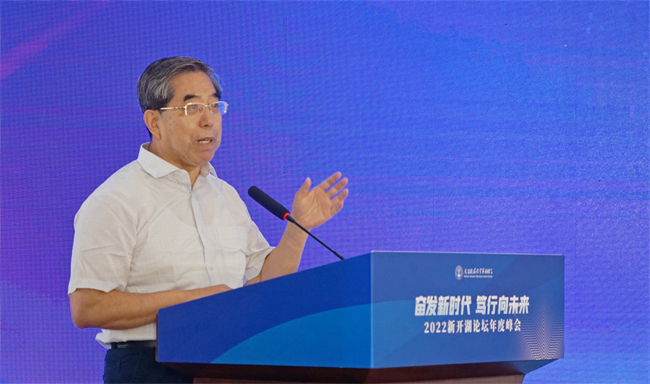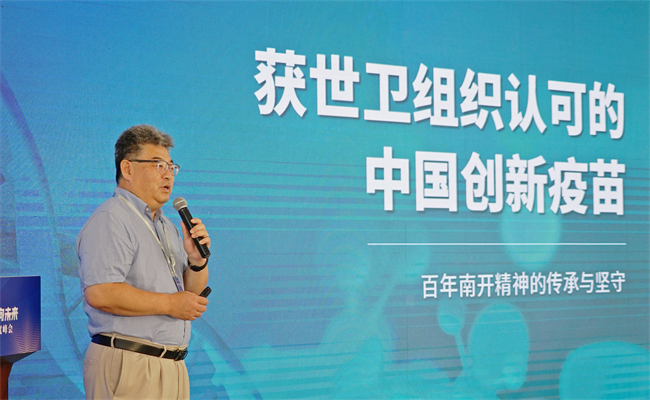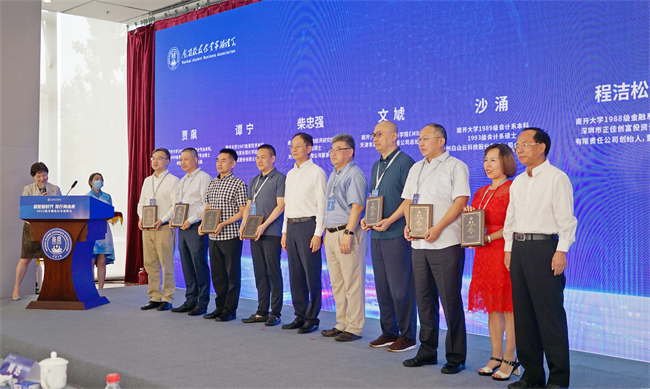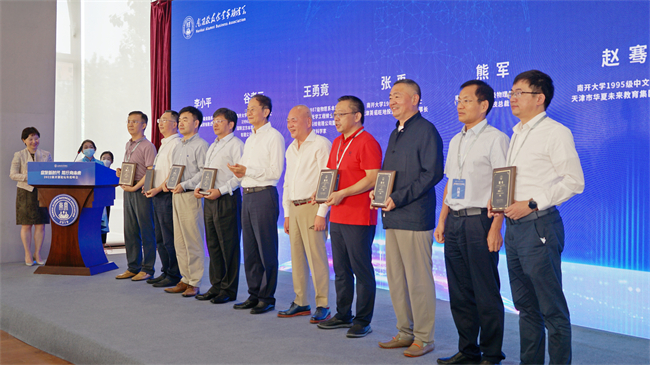 The Nankai Alumni Business Association has made active contacts with the outstanding alumni. At the forum, another 22 outstanding alumni entrepreneurs were awarded the titles of the director of the Association, further expanding the scale and strength of the Association.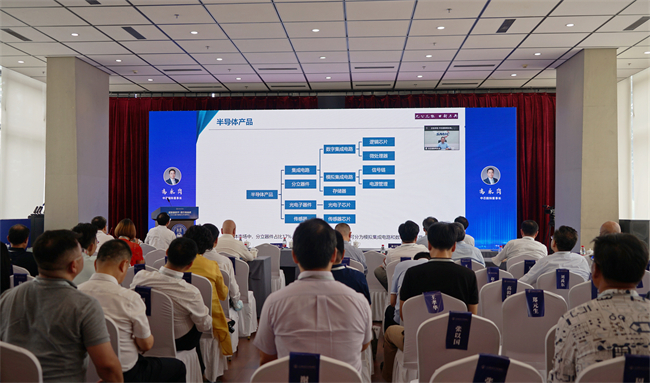 In the special forum session, alumni Gao Yonggang, Chairman of the Board of Semiconductor Manufacturing International Corporation gave a keynote speech on "Opportunities and Challenges: on the Development of Semiconductor Industry", introducing the development history of the semiconductor industry and the challenges faced by China's semiconductor industry.
Tang Tianshen, Executive President of IC SPACE Holdings Co., Ltd., Zhou Ruxin, Chairman of Beidou Xingtong Navigation Technology Co., Ltd., Shen Haoping, Vice Chairman and General Manager of TCL Zhonghuan Renewable Energy Technology Co., Ltd. and Chairman of Zhonghuan Advanced Semiconductor Materials Co., Ltd., and Zhao Ying, Dean of the College of Electronic Information and Optical Engineering of NKU launched a round-table dialogue on the theme of "Research, Investment and Development Opportunities for Semiconductor Industry".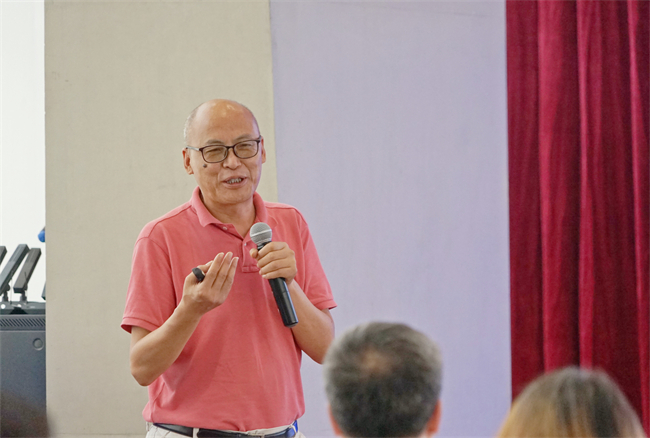 At the forum, Chen Yongsheng, Distinguished Professor and Director for the Center of Nanoscale of Science and Technology at NKU, made a special report on "New Materials, New Energy, New Track, and New Wealth". He pointed out that it is necessary to leverage technology and talents to develop industries based on new materials and new energy so as to blaze a new trail of independent innovation in green energy.
On the day of the Summit, Chen Dongsheng, Chairman of Taikang Insurance Group, was hired as a director and distinguished professor of NKU. Yang Qingshan presented Chen Dongsheng with the letters of appointment and the badge.
Chen Dongsheng, Chairman of Taikang Insurance Group, Yu Minhong, Chairman of New Oriental Education and Technology Group, and Ding Liguo, Chairman of Delong Iron and Steel Group and New Tianjin Steel Group Company Limited engaged in a summit-level dialogue and interpreted the "Entrepreneurship". The session was moderated by Professor Bai Changhong, Dean of NKU Business School.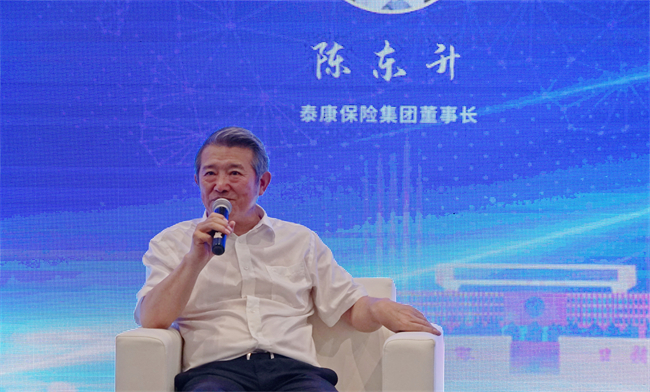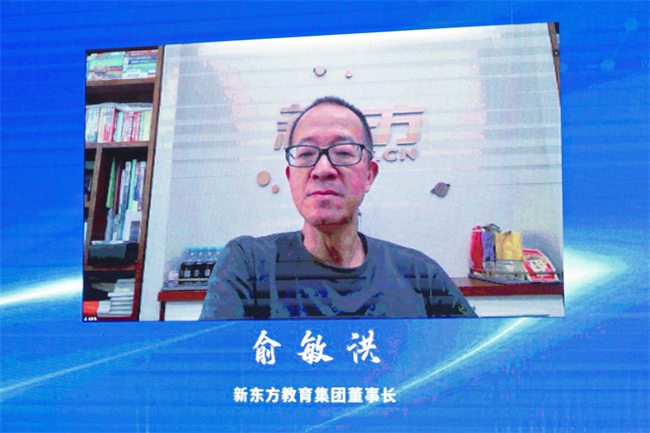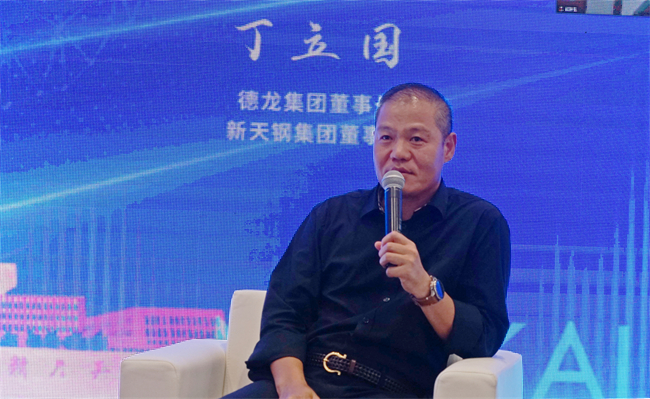 At the closing meeting of the forum, Chen Dongsheng was hired as the Co-Chairman of Nankai Alumni Business Association. Yang Qingshan and Zhang Wenzhong jointly issued a letter of appointment to him.

"Xinkai Lake Forum" is a brand activity of Nankai Alumni Business Association, and an annual gathering of all the members of the Association. Since its establishment in 2019, the Association has held the "Xinkai Lake Forum Summit" in Shenzhen, Tianjin, Shanghai, Beijing and other places, inviting many famous entrepreneurs to have summit-level dialogues, share entrepreneurial experiences, and spread the entrepreneurial spirit in the new era.
(Edited and translated by Nankai News Team)