The 23rd National Symposium on Environmental Microbiology, co-hosted by Nankai University and the Environmental Microbiology Committee of the Chinese Society for Microbiology, was held in Tianjin from August 23 to 26.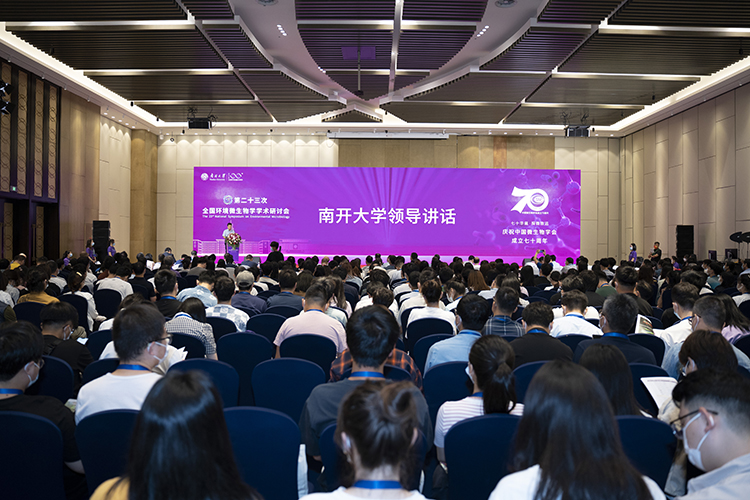 Chen Jun, an academician of the Chinese Academy of Sciences and Vice President of Nankai University; and Prof. Yang Haihua, Executive Deputy Secretary-General of the Chinese Society for Microbiology, delivered speeches. Prof. Zhou Ningyi, Chairman of the Environmental Microbiology Committee, attended the symposium and gave a speech. Guo Jun, a supervisor of Jian Haoran Environmental Microbiology Foundation and a research fellow of the Institute of Microbiology of Guangdong Academy of Sciences, introduced the life story of Mr. Jian Haoran and the origin of the Environmental Microbiology Foundation, and presented certificates and prize bonus to the winners of Jian Haoran Award for Excellent Environmental Microbiology Paper.
On behalf of Nankai University, Chen Jun extended a welcome to all the guests and congratulated the symposium. He pointed out that environmental microorganisms are key participants in the materials cycle in nature, and hoped that participants would lead the research towards a new excellence through brainstorm and interaction. At the same time, he hoped that the participants will continue to support the development of Nankai University.
The symposium includes six branch sessions, including frontiers of environmental microbiology, biodegradation of pollutants and bioremediation, environmental microbial ecology and omics, utilization of environmental microorganisms as resources, extracellular electron transfer of environmental microorganisms and population interaction. 18 experts made presentations, and a total of 243 papers and abstracts have been received.
The year 2022 marks the 70th anniversary of the establishment of the Chinese Society for Microbiology and the 100th anniversary of the establishment of the biology discipline at Nankai University. This symposium received support from the Chinese Society for Microbiology. The symposium was co-organized by the Tianjin University Frontier Science Center for Synthetic Biology, Tianjin University of Science and Technology, Tianjin Microbiology Society, and the Ministry of Education Key Laboratory of Molecular Microbiology and Technology.
(Edited and translated by Nankai News Team)