The 7th World Internet of Things Convention (WIOTC) kicked off in Beijing on February 10. This convention is committed to spurring the development of the global Internet of Things and digital economy, and was attended by the representatives of a number of United Nations agencies, and government officials, ambassadors, and counselors from nearly 100 countries, as well as academicians, experts and scholars, executives of the world's top 500 IoT enterprises, representatives of international think tanks, etc. The event attracted nearly 10 million views online and offline. Professor Gong Ke, former President of the World Federation of Engineering Organizations, Chair of the Academic Committee of Nankai University, and Executive President of Chinese Institute of New Generation Artificial Intelligence Development Strategies, was invited to attend the convention and delivered a speech at the opening ceremony.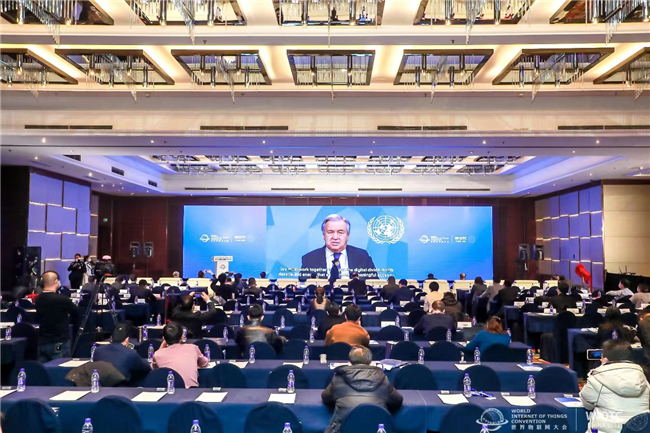 At the convention, UN Secretary-General António Guterres delivered a speech via video. He emphasized that the Internet of things offers great potential for sustainable development, and is transforming lives and livelihoods. Nearly half of the human beings still have no access to the Internet, we must work together to bridge the digital gap and open new doors for economic growth, as well as to prevent and reduce the dangers of digital technologies such as the abuse of data. Jean-Pierre Raffarin, former French Prime Minister, Ulrika Francke, President of the International Organization for Standardization (ISO), Andreas Dripke, Chairman of Diplomatic Council (DC), and Shahbaz Khan, UNESCO Representative to the People's Republic of China, attended the opening ceremony and delivered speeches.
Gong Ke noted in his speech that the IoT, a new technology developed based on the Internet, promotes the world to be universally interconnected. The digital economy industrial system as well as the market ecosystem composed of industrial chain and supply chain, which are underpinned by the IoT, big data and artificial intelligence, are disruptively changing the traditional way of manufacturing, lives and social governance. Such development and changes face multiple challenges in terms of technology and governance. Hence, he called on the global science, technology and engineering communities to work together and take on the historic responsibility of accelerating the realization of the UN Sustainable Development Goals, and tackling common global challenges to safeguard the common interests of mankind.
It is learned that the WIOTC is an innovative and non-profit IoT organization with international Influence and authority. The annual WIOTC has become the most influential high-end event for the IoT and digital economy.
(Edited and translated by Nankai News Team)