March 4, 2023 was the 4th United Nations Educational, Scientific, and Cultural Organization (UNESCO) World Engineering Day for Sustainable Development (WED). Professor Gong Ke, Immediate Past President of the World Federation of Engineering Organizations (WFEO), Chair of the Academic Committee of Nankai University, was invited to Portugal, Spain and France to attend WED international celebrations, and perform his duties in the WFEO by attending WFEO Executive Board and Executive Council Meetings, deeply engaging in the cooperation and government of the international engineering and science and technology communities.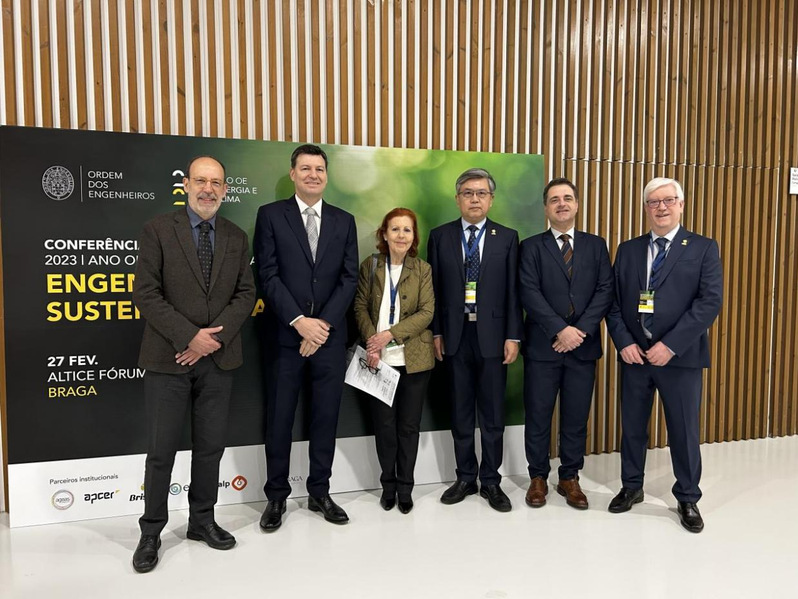 On February 27, Professor Gong Ke participated in the celebration event hosted by Portuguese Institute of Engineers on invitation and delivered a speech entitled "The Role of Engineers in Energy Transition to Mitigate Climate Change". He pointed out that the resilience of the world's sustainable development has been seriously challenged due to the complex and volatile international situation, frequent natural disasters such as extreme weathers caused by climate change, the widening gap between the haves and have-nots, the growing tensions of geopolitics and armed conflicts, together with the impacts of COVID. The theme of this year's World Engineering Day - Engineering Innovation for a More Resilient World - focuses on the crucial issue of lacking resilience in global development, encouraging engineers to promote global sustainable development through engineering innovations, during which energy transition is an essential direction to be explored. We have witnessed that carbon emissions from the energy industry have accumulated to three quarters of the world's total, calling for a massive transition of both energy production and consumption. Gong Ke emphasized that engineers play a vital role in the whole energy transition process, from ensuring the sustainability, broad availability and modernization of energy supply to improving energy efficiency and reducing carbon emissions. Hence, he called on engineers across the world to work together and promote energy transition in tackling climate change.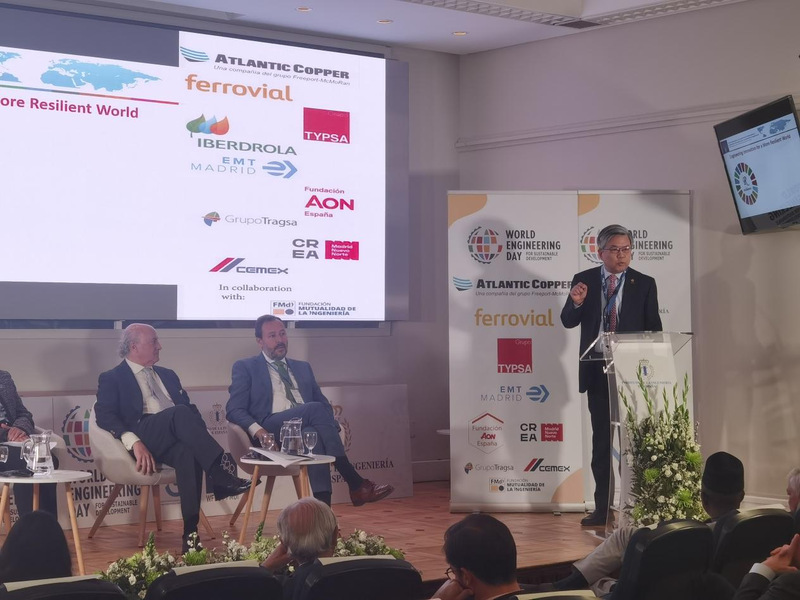 From February 28 to March 4, Professor Gong Ke attended WFEO Executive Board and Executive Council Meetings in Madrid, Spain, and participated in the World Engineering Day Forum held by Spanish Institute of Engineers on invitation. There he delivered a keynote speech entitled "Engineering Innovation for a More Resilient World". Gong Ke indicated that under the multifaceted challenges from economy, society, environment and other sectors, enhancing the resilience of sustainable development is the key to get the world development back on the right track. Furthermore, he explained the crucial role of engineers in promoting global economic growth through enhancing the resilience of infrastructure and facilitating the modernization of social production and people's daily life. In food production, engineers help realize the modernization of agricultural production. Through mechanizing sowing, fertilizing and other operational processes, they contribute to building green, low-carbon and intelligent agriculture. For energy transition and development, focusing on electricity and other key energy sources closely related to social production and life, electrical engineers, mechanical engineers and environmental engineers strive to strengthen the resilience of infrastructure, greatly improve the energy availability and provide engineering innovation solutions for developing green, low-carbon and sustainable energies such as solar and wind power. As for architecture, engineers are committed to reducing carbon emissions of buildings. They have set the green building standards, developed green building materials through new engineering technologies, and applied biological methods to meet the housing demands of drainage, energy storage and thermal insulation. In terms of transportation, engineers build smart cities by adopting advanced digital technologies such as big data and artificial intelligence, which facilitates traffic control to reduce traffic congestion and carbon emission. To enhance the resilience of global development, Gong Ke proposed the "Three Musts" in action: we must improve our capacities to apply science and technology, especially engineering capacity; we must enhance interdisciplinary cooperation among governments, academic institutions and the private sector both internationally and domestically; we must emphasize the cultivation of engineering ethics, especially in the education of young engineers.
UNESCO announced at its 40th plenary session in 2019 that the 4th of March each year was proclaimed as the World Engineering Day for Sustainable Development, an initiative led by the WFEO and then formally proposed by China and Namibia, with the support of more than 40 UNESCO member countries. 2023 World Engineering Day celebrations consist of three parts: various events around the world, a 24-hour global broadcast, and the Global Hackathon for college engineering students, in which the team from the College of Environmental Science and Engineering, Nankai University, was selected to be among the 12 finalists with their work "the ecological nano-pesticide combating the Lepidoptera on corn crops in Sub-Saharan Africa" from over 150 teams globally.